Joining Community Forces: Uniting city, county networks in support of state's military community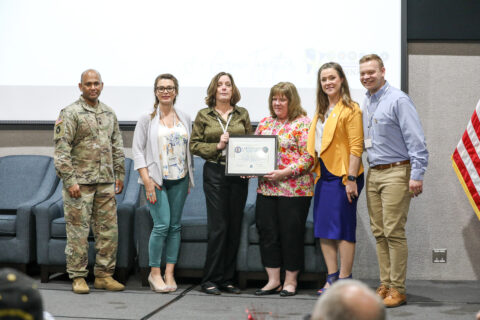 Almost 100 individuals representing the Minnesota Beyond the Yellow Ribbon community networks in cities and counties across Minnesota attended the annual Joining Community Forces event on May 12, 2023, at Camp Ripley, near Little Falls, to share best practices in supporting the state's military community.
"Our Citizen-Soldiers, Airmen, Veterans, and their families have a symbiotic relationship with the local communities where they live and work," said Army Lt. Col. Joseph Sanganoo, the Minnesota National Guard's family programs officer, who spoke at the event. "Their individual resiliency, readiness, and success as units in defense of our country and our freedom correlate with, and is reliant on, local support from their neighbors, employers, civic organizations, public safety, educational institutions, clergy, and medical providers."
The mission of the Beyond the Yellow Ribbon program, also known as BTYR, is to establish and sustain a comprehensive community and corporate support networks that connect and coordinate agencies, organizations, and resources to meet the needs of the state's Veterans, service members, and families in all military branches. BTYR achieves this through many efforts, activities, and events, including hosting the Joining Community Forces event, or JCF.
This year's JCF theme was "Let's Grow Together," and attendance was significantly higher than the previous year.
"The number of communities, companies, and organizations in Minnesota that support military families is incredible," said Kacie Stanek, Minnesota Department of Natural Resources military outreach representative, chair of Grand Rapids Beyond the Yellow Ribbon, and a military spouse. "JCF events always leave me with an overwhelming feeling of unity and support."
JCF was a full day of activities featuring resource booths, lunch, two panel discussions, a group networking activity, and prize drawings. Guest speakers included Tiffany Kovaleski, formerly with Building Healthy Military Communities, and Army veteran Adam Skillings, who served with the Minnesota National Guard.
In his remarks, Skillings recounted how the Isanti County BTYR helped him in times of need. The day before he was to deploy for Afghanistan in early March 2013, the furnace in his home broke. The Isanti County BTYR was quick to assist. By the time he landed in Texas for pre-deployment training, Skillings' wife informed him that there were BTYR members and a furnace company representative at their home working on replacing the furnace.
Skillings was relieved. "I knew that even though it was just my wife and I… no matter what happened, somebody would be there to help out," he said.
Several years later, on a hot July day, the air conditioner in Skilings' home broke down. He was worried about his wife and their two-month-old son. He reached out to the Isanti County BTYR asking if they could recommend a company that could repair the air conditioner and allow him to pay on a payment plan. Instead of providing a recommendation, the group surprised Skillings with a new air conditioner that had already been installed when he came home from work one day. He called the company that installed it to establish a payment a plan but learned all costs had already been paid.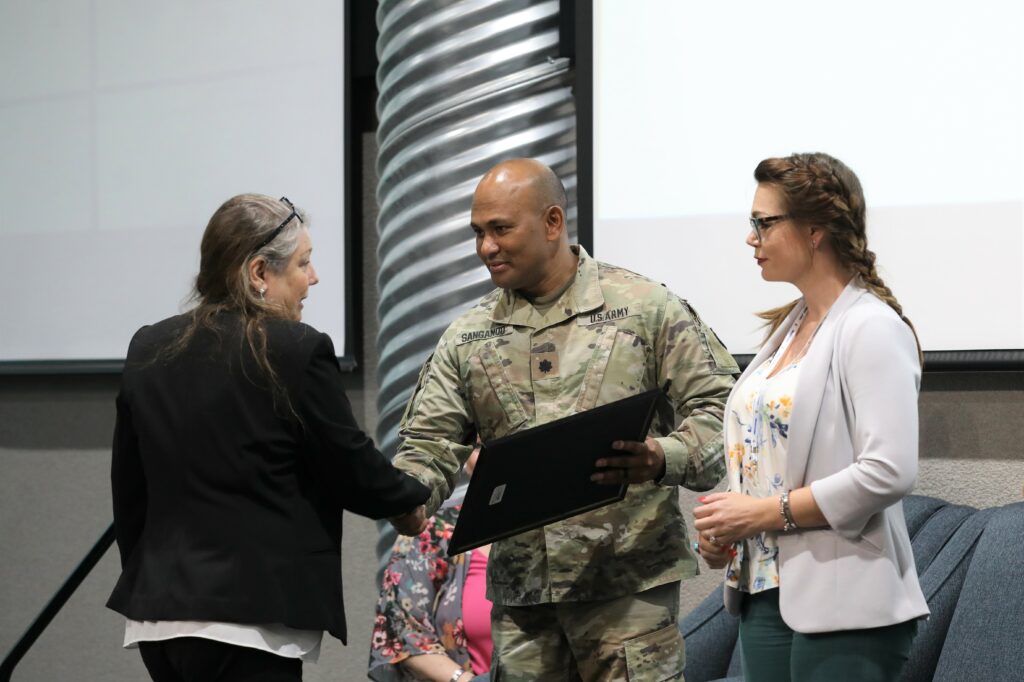 "The things that the Yellow Ribbon has done for me personally, I can't thank them enough," Skillings said. "The things you do and the people you help, it really touches us all and we can't thank you enough. Because without you guys' help, some of us would be drowning… I don't know how they do it. I swear it's magic. But they're there. Anytime they can help, they want to."
Skillings and his wife, in turn, give back by volunteering and assisting the BTYR network however way they can, so it can continue to help others.
Isanti County BTYR was one of the networks that received an award at JCF. The recognition was awarded to those who have gone above and beyond and made a significant impact in their community. Other award recipients included Central Minnesota Warrior to Citizen, Big Lake, Red Wing (Hiawatha Valley), Faribault, Cottage Grove, Owatonna, and Northfield Beyond the Yellow Ribbon Networks.
To learn more about Beyond the Yellow Ribbon, visit https://MinnesotaNationalGuard.ng.mil/btyr.
By Cristina Oxtra
Minnesota National Guard Public Affairs