Learning to Lead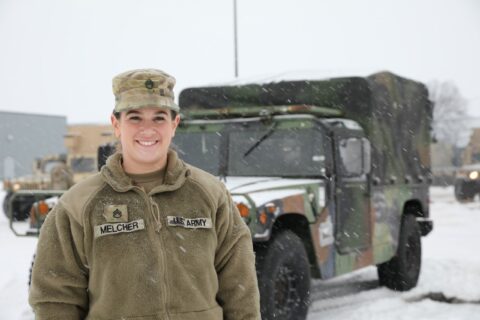 March 2, 2021 (ARDEN HILLS, Minnesota) — The strength of any force is due in part to the strength of its leadership. In the Minnesota National Guard, a growing population of its force and leadership are women. While some serve full-time as service members, some juggle their responsibilities as non-commissioned officers (NCOs) and officers with very different civilian careers.
Staff Sgt. Natalie Melcher does just that.
"When I work as a nurse, I'm not in a management position. I'm in charge of myself, my patients and that's it," Melcher explains. "I have to completely switch gears when I come here because I have people underneath me."
In her role with the 34th Red Bull Infantry Division, Melcher acts as an Air Defense Battle Management System Operator and has 10 junior enlisted Soldiers who she is responsible for.
When she is not conducting military operations, she works overnights as a nurse in the emergency room of Methodist Hospital in St. Louis Park.
Melcher began her career in the Minnesota National Guard when she enlisted at age 17. She went to basic training between her junior and senior years, then went on to her four-month-long advanced individual training after graduating high school. She decided to get a two-year degree in nursing and is currently going to school through Mankato State University to complete a four-year nursing degree.
"I really like the leadership experience I've gotten through the Guard," she shares. "Even with nursing and civilian stuff, I'm 100 percent more confident. I'm more assertive; being in this role has helped me with that. And with life; being more aware of who I am."
At the 34th Infantry Division Headquarters and Headquarters Battalion, Melcher serves as a section leader and often finds herself to be the only female in the room during leaders' meetings. At the age of 27, Melcher assesses that being a young woman in a leadership role has its challenges, though she has embraced them and grown more assertive in the face of difficulty.
"Things are definitely getting better, but things like that take time to change," said Melcher. "It's not going to change overnight. I like being a woman in my leadership role. I like being an example for other ladies and hopefully they can be NCOs one day, too."
Story by Staff Sgt. Linsey Williams, 34th Red Bull Infantry Division public affairs