Minnesota Armory modernization prepares National Guard for the future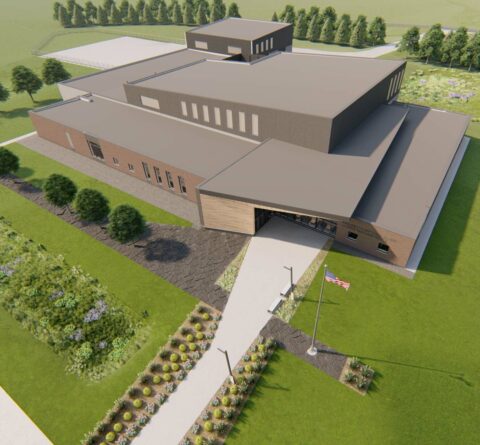 March 11, 2022 (LUVERNE, Minnesota) — The Minnesota National Guard is striving to improve readiness and training opportunities throughout the state with new construction and renovation to existing armories. According to Don Kerr, the executive director of the Minnesota Department of Military Affairs, the planning is constantly evolving.
"The Department of Military Affairs conducts ongoing and in-depth analysis of all of our buildings and property assets in order to plan systematic upgrades of our facilities in a sustainable and predictable manner. We try to schedule comprehensive renovations to upgrade roofs, windows and mechanical systems every 25-30 years, depending on the availability of state and federal funding. Of course, we are sometimes surprised by unexpected failures of major building systems, like boilers, for example, and adjust our plans accordingly."
The Luverne Training and Community Center broke ground on December 14, 2021 and will serve National Guard members on drill weekends and facilitate public events throughout the year.
"The new Training and Community Center in Luverne will be a quality, eco-friendly building that will enhance training, bring new capabilities to the area, and contribute to the mission readiness of the Soldiers in the local unit," said Army Lt. Col. Troy Fink, construction and facilities management officer for the Minnesota National Guard.
The facility will be certified as Leadership in Energy and Environmental Design-Silver by the U.S. Green Building Council and features offices, classrooms, a learning center, exercise room, locker rooms, commercial kitchen, equipment storage, arms vault, and vehicle maintenance bays.
To the east in New Ulm, a nearly $30 million construction project is underway to build a Field Maintenance Shop, or FMS. After breaking ground on May 20, 2021, the FMS is slated for completion in the spring 2022.
The new facility will provide units in the area with increased opportunities to train on a greater variety of equipment.
Adjacent to the FMS, an armory is slated to break ground in the spring of 2023. It will replace the current armory that is more than a century old.
Much like the Luverne project, this armory will accommodate more Soldiers on training weekends while providing the community with additional space for public events. In addition, there will be more classrooms available to accommodate modern training.
Typically, about 100 Soldiers drill at the current New Ulm Armory each month. That number could triple as Soldiers from other units begin to at the planned new armory.
On a smaller scale, the Brainerd Armory has scheduled a grand opening event on March 25th to showcase the recently completed $8 million renovation. This is the first renovation to the over three decades old building had never been renovated.
Locker rooms, restrooms and showers were restored, along with the replacement of mechanical, electrical, telecom and data systems.
The Fergus Falls Readiness Center is another priority for the Minnesota National Guard. The 19,912 square foot needs an estimated $4.9 million in renovations to improve functionality and better accommodate assigned units.
Continuing north, the Moorhead Readiness Center has opened bidding for a $10 million renovation. Similar to Fergus Falls, the armor requires upgrades in administrative, supply, arms vault, and toilet/shower space.
The increase in space would adequately meet the space requirements for the unit and improve readiness through a higher quality of training. "Like all physical structures," said Kerr, "our buildings require periodic maintenance, code updates, and, from time to time, replacement to ensure our Soldiers have safe and efficient facilities to conduct training and operations."
Story by Bob Brown