Minnesota Aviators complete successful eXportable Combat Training Capability exercise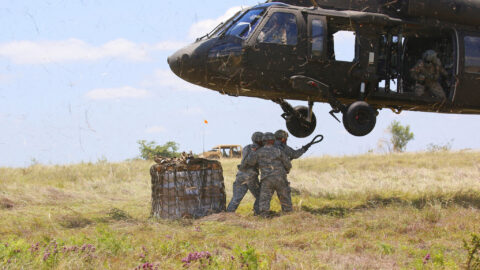 By 1st Lt. Katherine Zins
34th Combat Aviation Brigade Public Affairs
FORT HOOD, Texas (June 20, 2017) – Soldiers from the Minnesota National Guard's 2-147th Assault Helicopter Battalion wrapped up support for an eXportable Combat Training Capability (XCTC) exercise at Fort Hood, Texas, recently. The unit was part of Task Force Ragnar, the exercise's aviation element, supporting the Tennessee National Guard's 278th Armored Calvary Regiment as they prepare for a rotation to the National Training Center in 2018.
"Our mission is to support a brigade element here," said Chief Warrant Officer 4 John Otremba, with the 2-147. "But I think our ultimate mission is to train for an austere environment which sets us up for success at NTC next year."
The task force conducted aviation support missions including air assault, sling load, deliberate attack, defensive positioning and key leader escorts. They also conducted aviation-specific training in personnel recovery, downed aircraft recovery, field maintenance and air traffic control operations.
"We developed cohesive teams both within and across units. The relationships we established with the task force Soldiers from Minnesota and other states, as well as with the regimental and squadron-level commands and staffs from 278th ACR will help us be more successful during our rotation at the National Training Center next spring," said Lt. Col. Kevin O'Brien, the battalion commander.
The St. Paul, Minnesota-based 2nd Battalion, 147th Assault Helicopter (2-147 AHB) is an Army National Guard utility helicopter battalion that supports the 34th Infantry Division and the State of Minnesota by providing air lift, scouting, mobility and support of civil authorities. The aviators of the 2-147 AHB fly the UH-60 Black Hawk helicopter.