Minnesota Aviators lead multi-state National Guard partnership for NTC rotation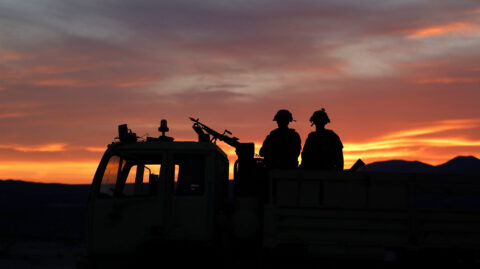 May 21, 2018 (FORT IRWIN, California) — The Minnesota National Guard's 2nd Battalion, 147th Assault Helicopter Battalion is working together with aviation units from four different states to provide support to the Tennessee-based 278th Armored Calvary Regiment during a rotation at National Training Center in Fort Irwin, California.
Making up Task Force Ragnar is Utah-based B Company, 1st Battalion, 211th Assault Reconnaissance Battalion; Nevada-based B Company, 1-189th General Support Aviation Battalion; Michigan-based C Company, 3-238th GSAB; and Minnesota-based A, D, E and Headquarters Companies, 2-147th AHB and F Company, 1-189th GSAB.
"Early coordination with the units across four states combined with exceptional unit leadership and motivated Soldiers helped us to quickly build the task force when we closed on Fort Irwin," said Lt. Col. Kevin O'Brien, Task Force Commander. "I was thoroughly impressed with the professionalism and teamwork of task force Soldiers. This was an outstanding training opportunity that challenged every Soldier to grow as individuals and units daily."
All the units are working together in an aviation task force that offers the 278th ACR commanders airspace assets, such as: AH-64 Apache helicopters, CH-47 Chinook helicopters, UH-60 Black Hawk helicopters and aeromedical helicopters.
The 278th ACR has used the aviation assets in various missions providing an additional dimension on the battlefield with attack helicopters equipped with hellfire missiles and machine guns, air assaults, sling load, medical evacuation and transportation of personnel.
NTC is a scenario-based exercise that practices decisive action warfare against a complex threat. Combined-arms maneuvers of the main effort and insurgents attacks on the support elements with small-arms fire, artillery, chemical and improved explosive devices readies our Army to defend against threats to the United States.
The box at NTC is a vast and austere training area in the Mojave Desert, which presents its own challenges. Soldiers stay out in the box for 14 days with only the equipment brought with them. This trains Soldiers to rely on Army equipment for both operation security and occupying a location without infrastructure. In order to survive the force-on-force portion of training, units have to stay mobile to avoid opposing forces.
"Task force leaders were dedicated to managing risk in one of the most demanding training environments in the world," said Lt. Col. O'Brien "We look forward to returning units and Soldiers home with a higher level of training readiness than when we arrived."
Story by Capt. Katherine Zins
34th Expeditionary Combat Aviation Brigade