Minnesota aviators prepare to deploy to Colombia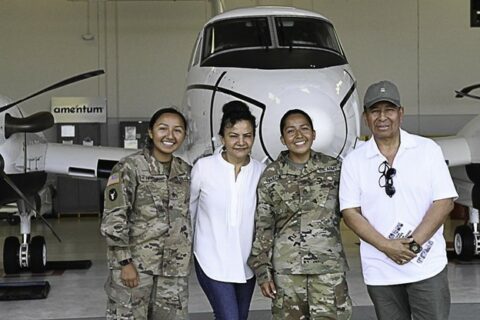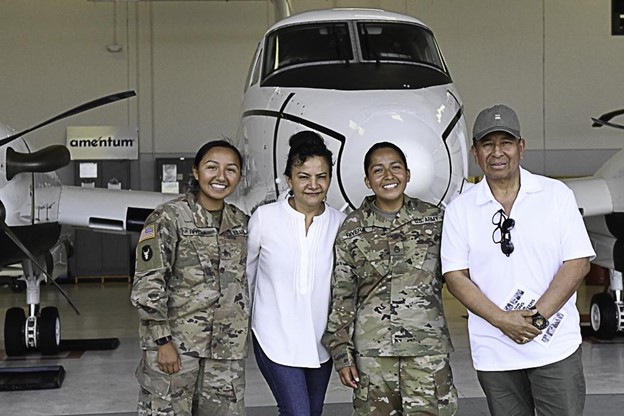 SAINT PAUL, Minn. – Family, friends, and members of the Minnesota National Guard's Flight Detachment Five from Bravo Company, 2nd Battalion, 245th Aviation Regiment, gathered at the Saint Paul Army Aviation Support Facility at Holman Field July 6, 2023, to hold a deployment ceremony as the unit prepares to deploy on a nine-month mission to Bogota, Colombia. 
Led by Army Warrant Officer Five Brad Husnik, the detachment commander, the six-member Saint Paul-based team will be conducting several assignments in support of the Unites States Southern Command's Combat Transnational Organized Crime Counter Drug/Counter Narcotics mission. The team will operate out of Bogota, where they will conduct flight operations, transporting passengers and cargo throughout South America.
Despite the challenges of the mission presented by an environment that will offer less than ideal terrain for flying and shorter runways, Husnik said the team has spent the past year preparing.
"Now what we have done though, in that year, is trained for smaller runways, mountain training, high altitude training by going out west and landing at our collar airfields or higher altitude airfields in our equipment that we have with us," said Husnik.
To fulfill the requirement that the team has one member that speaks and writes Spanish fluently, Army Staff Sgt. Abigail Rivera has joined the detachment as the mission's operations noncommissioned officer. Rivera was born in Peru, living there until she was 12, when she came to the United States. She joined the National Guard in 2012 and was a member of the 34th Expeditionary Combat Aviation Brigade. She has spent the past six months learning flight operations and international travel to prepare for her new role. With Spanish as her first language, and her dedication to learning aviation operations in order to prepare for this mission, Rivera said she is eager to assist.
"Spanish is a language I'm comfortable with and I am excited to be translating and being the coordinator for my teammates," she said.
The team is set to depart on soon for North Carolina for training before heading to Colombia. 
By: Spc. Samuel Misoi, Staff Sgt. Sirrina Martinez, & Maj. Jackie Stenger
Minnesota National Guard Public Affairs