Minnesota aviators support Nebraska flood fight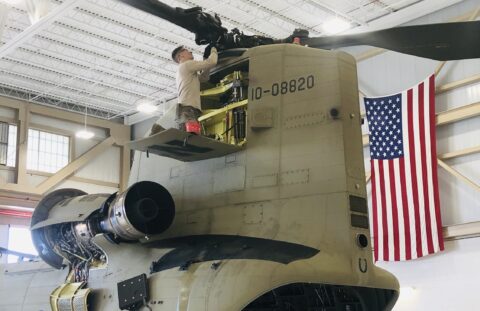 March 24, 2019 (ST. CLOUD, Minnesota) — Ten soldiers from the Minnesota National Guard's 34th Expeditionary Combat Aviation Brigade departed Wednesday for Grand Island, Nebraska to assist with flood-fighting efforts.
The Nebraska National Guard's aviation unit is currently deployed to Afghanistan and requested support from the Minnesota National Guard. Areas of Nebraska have been heavily impacted by catastrophic flooding.
The 34th ECAB is providing helicopter mechanics, a maintenance test pilot, a CH-47F Chinook helicopter and crew to support the mission. Their primary focus has been transporting sandbags to reinforce a man-made levy protecting generators that power the cooling tower at the Cooper Nuclear Power Station near Nemaha, Nebraska. They have also aided in hay bale drops to feed cattle.
"It is a different mission than the our recent hurricane relief missions," said Chief Warrant Officer 3 Thomas Knutson, a maintenance test pilot for the St. Cloud-based Company B, 2-211th General Support Aviation Battalion. "But this flood-fighting mission is exactly what we have trained for back in Minnesota. We were able to 'hit the ground running,' including our aviators, crew, and maintainers."
"Our maintainers have been working non-stop, pretty much since we got down here," said Knutson. "They have logged well over 80 hours with the amount of people that we have. Our maintainers went straight to work." Minnesota National Guard maintainers are also working on Nebraska National Guard helicopters.
While it is Knutson's fourth State Active Duty mobilization in the past 18 months, it is the first time on State Active Duty for the maintainers and two of the flight crew members.
"The experience has been great," said Knutson. "The maintainers are skilled at the task, performing work they traditionally conduct at weekend drills and when deployed. The flight crew gains from an operational environment that requires integrating with other agencies as part of a complex mission."
Community members, the welcoming party and volunteers on the ground have been very appreciative, said Knutson
The unit has mobilized several times in recent years to assist the efforts of other states.
"Our CH-47 unit is one of the most sought after in the National Guard," said Col. Gregory Fix, the 34th Combat Aviation Brigade Commander. "Our well-trained, capable soldiers are always prepared to support states in the region."
Story by Lt. Col. Cheryl Wachenheim, 34th Expeditionary Combat Aviation Brigade