Minnesota aviators welcomed home from deployment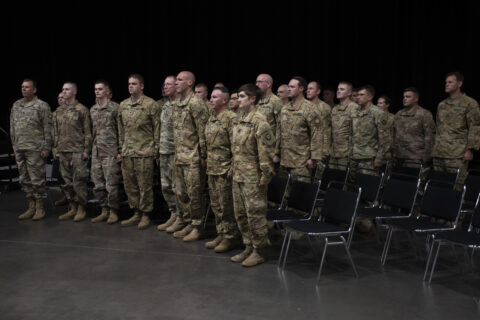 June 29, 2019 (ST CLOUD, Minnesota) — The Minnesota National Guard officially welcomed home 52 soldiers from Company C, 2-211th General Support Aviation Battalion, June 29, 2019, at the St. Cloud Rivers Edge Convention Center.
The soldiers returned to Minnesota in early May after deploying in support of Operation Spartan Shield to provide aerial medical evacuation support in the area of operations, supporting all branches of the U.S. Department of Defense.
"We succeeded despite our flaws, our weaknesses and our challenges," said Maj. Nathan Burr, the unit's commander. "In the end it was our character, our family and our great dedication to service that lifted us to great heights."
Prior to deployment, the unit spent time training at Fort Hood with the Missouri National Guard's 35th Combat Aviation Brigade, providing medevac coverage in three different locations during the brigade's collective training exercise. Just days prior to deploying overseas, the unit provided critical wildfire suppression support for the largest wildfire in Fort Hood's history, flying over 90 hours and dropping over 800,000 gallons of water to help the Fort Hood fire department to contain the fire in just three days.
"Charlie Company wasted no time at all proving to the 35th Combat Aviation Brigade that they were getting the best of the best," said Brig. Gen. Johanna Clyborne, Deputy Adjutant General of the Minnesota National Guard.
While deployed, the soldiers conducted over 180 live missions across Kuwait, Iraq, Jordan and Syria, flew 1,250 total flight hours and conducted additional training missions including multi-national exercises, over water hoist operations, live hoist operations and deck landing qualifications.
The unit was previously mobilized state-side in 2004 in support of Operation Noble Eagle, in 2008 to Western Iraq in support of Operation Iraqi Freedom and in 2013 to Afghanistan in support of Operation Enduring Freedom.
"These units deploy faster than anybody," said Col. Gregory Fix, Commander of the 34th Combat Aviation Brigade. "They're one of the most sought-after units in the National Guard for deployments because they're so ready."