Minnesota-based aviation unit takes part in Warfighter Exercise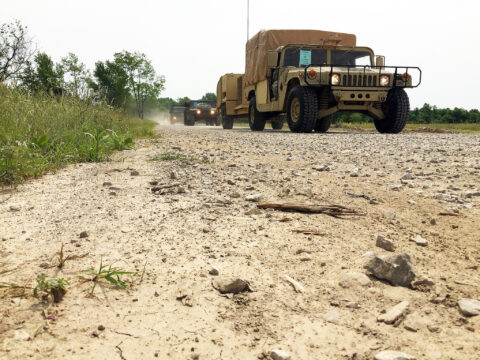 June 8, 2018 (CAMP ATTERBURY, Indiana)  — More than 150 Soldiers of the Minnesota National Guard's 34th Expeditionary Combat Aviation Brigade are here participating in a multi-echelon training event, Warfighter Exercise 18-5, May 30 to June 15.
The exercise, which is part live and part virtual, is testing the St. Paul, Minnesota-based aviation unit's ability to conduct operations and mission command in a high-intensity, complex operating environment. Soldiers are being challenged to take decisive action as they focus on air-ground operations — or synchronizing and integrating aviation operations into the scheme of maneuver planned and conducted by forces on the ground.
In this case, the units on the ground are being commanded by the Rosemount, Minnesota-based 34th Red Bull Infantry Division, which is also participating in the exercise.
"Our Soldiers are highly skilled in providing a wide spectrum of aviation capabilities, and we're testing those skills as we support Division operations," said Col. Shawn Manke, commander of the 34th ECAB. "This training is a great opportunity to for us to assess our abilities and overall readiness. We're committed to providing effective command and control of the units that operate under our guidance and with our support."
The 34th ECAB has a long history of supporting a variety of critical, real-world contingencies at home and abroad. The organization has consistently demonstrated key competencies in warfighting, developing partnerships and protecting the homeland. While participating in Warfighter Exercise 18-5, 34th ECAB Soldiers have a chance to strengthen these competencies.
"We train year-round with focused training objectives in a variety of mission-essential tasks, but — over the course of this exercise — we're concentrating on our warfighting acumen," Manke said. "With proficient mission command, we can continue to successfully plan, supervise and accomplish missions around the world."
Staff members from the 34th ECAB take their various roles in planning and conducting aviation operations seriously.
"We're committed to positively impacting the efforts of our ground forces," said Maj. Nickolas Holz, a battle captain for the brigade. "As an agile and lethal unit, we're able to reduce or eliminate threats, so Soldiers on the ground can more easily maneuver and accomplish their mission."
The unit's time at Camp Atterbury is well spent. In an austere operating environment, Soldiers from the aviation unit are building unit cohesion and combining their efforts.
"It's not often that we can work on staff integration with limited distractions," Holz said. "We're here to validate our efficiency and readiness as a team, and the training is certainly paying off."
Story by 1st Lt. Eric Jungels
34th Expeditionary Combat Aviation Brigade