Minnesota companies, organizations gather to support state's military community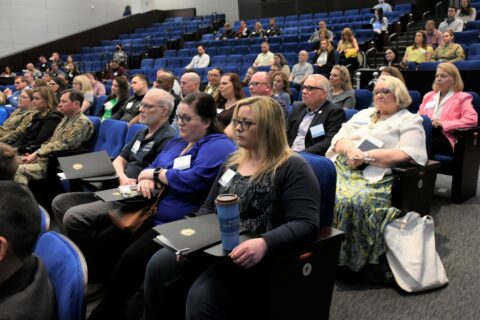 Nearly 150 people, representing 47 companies and organizations across Minnesota, attended the Beyond the Yellow Ribbon spring conference April 13 at Allianz Life headquarters in Minneapolis to share best practices in supporting military veterans, service members, and their families.
"Beyond the Yellow Ribbon companies play a vital role in enabling our servicemembers and their families support our local community, state, and federal missions," said Army Lt. Col. Joseph Sanganoo, Minnesota National Guard family programs officer, who gave a military update at the conference. "The Minnesota National Guard is a more resilient and capable force because of their support and contribution towards the holistic well-being of our servicemembers and their families."
The theme for this conference is "Recruitment, Retention, and Recognition." Twice a year, in the spring and fall, Minnesota Beyond the Yellow Ribbon companies and organizations meet to connect and discuss ways to enhance their support of the state's military community. They also take turns hosting the conference.
Bill Gaumond, chief financial officer at Allianz Life and executive sponsor of the company's 'Operation: SERVE' employee resource group, saw the conference as an opportunity to learn and share with other companies about how they can, "all continue to build more equitable and inclusive workplaces in the Twin Cities."
"Allianz Life is proud to be a Beyond the Yellow Ribbon company, and to host the 2023 spring conference as part of our ongoing commitment to supporting military employees and communities," Gaumond said.
Gaumond, along with Jeff Langer, Allianz internal sales consultant, and Jasmine Jirele, Allianz chief executive officer, welcomed conference guests. Keynote speaker Mark Williams, president and chief executive officer of Brokers International, shared his experience serving in the Israeli military and emphasized how military members' unique experiences and skills, such as conflict resolution, reaching goals, and the overcoming a challenges and hardships, can benefit a company.
Other speakers included Army Maj. Gen. Shawn Manke, Minnesota's Adjutant General; Tom Lyons, Air Force and Vietnam War veteran, host of the Minnesota Military Radio, and Minnesota Military Family Foundation board member; and Betsy Lulfs, Thomson Reuters senior program manager. Conference guests also listened to a panel and participated in a group activity both of which focused on ways to recruit, retain, and recognize military-connected employees.
The next conference will be hosted by Capital One in November. Through its community and corporate partnerships, Beyond the Yellow Ribbon, also known as BTYR, program's network provides veterans, service members, and their families in all military branches a wide range of support, including deployment readiness, family assistance and resources, youth programs, educational and career opportunities, and more.
There are currently 79 active Minnesota BTYR companies and organizations. Visit the BTYR website to learn more.
By Cristina Oxtra
Minnesota National Guard Public Affairs