Minnesota companies, organizations meet to support military connected employees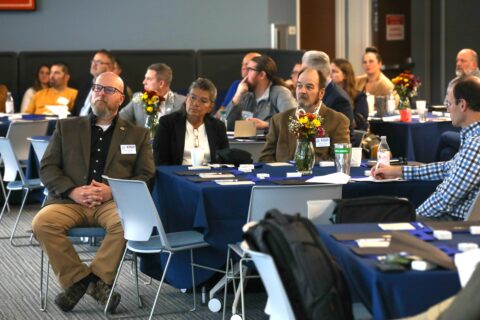 Almost 100 individuals representing companies and organizations across Minnesota gathered at the Beyond the Yellow Ribbon Fall Conference on Nov. 2, 2023 at Capital One in St. Cloud to connect, learn, and develop ways to support the state's military community.
November is Month of the Military Family, and the conference theme was "Helping our Military Connected Employees to Thrive."
"Our military families face challenges and hardships other families may never experience or understand," said Army Brig. Gen. Stefanie Horvath, Minnesota National Guard representative, who spoke at the conference. "Yet, no matter the sacrifices they must make, they stay strong and carry on. They are the epitome of never-ending flexibility, selflessness, and resilience. Like our veterans and service members, our families also need support."
Twice a year, Beyond the Yellow Ribbon companies and organizations take turns hosting the conference. According to Shaun Rowley, Capital One vice president, Minnesota market president, Capital One, which is in its fifth year as a Beyond the Yellow Ribbon company, hosted the conference as part of its ongoing commitment to support its military associates and their families.
Guest speaker Minnesota National Guard Army Capt. Tomas Hofmann serves as the Bravo Company Commander of the 2nd Combined Arms Battalion, 136th Infantry Regiment, in Thief River Falls, Minnesota. He was also a Capital One employee for eight years. He cited the challenges and frustrations of service members when their families experience an emergency, but they are far from home to help.
An emotional Hofmann recalled the time when he was deployed and a Capital One colleague, Meghan Murphy, who co-leads the company's military business resource group, picked up his wife and children when their car broke down on the road one evening. Hofmann felt his employer always had his and his families' back. "I felt like we were taken care of," he said.
To support military connected employees, Hofmann advised employers provide a point of contact for service members and their families to connect with, especially in times of need, and send care packages to military families, instead of only to deployed service members. They should also learn more about their service member employees — get to know who they are and what they do in the military. "The last thing I want to do is say, 'Hey, I've got to go, and my boss says, 'why.'"
Hofmann suggested employers check in with their service member employees and families before, during, and after a deployment, offer differential pay for service members while they are away performing their military duties, and give them ample time to reacclimate back to work when they return from these duties. He also said employers should not ask their service member employees, 'Do you need help?' but instead ask, 'How can we help you?'
"Don't ask if your service member needs help. They're going to say no. Don't ask if everything is okay because they're going to say yes," Hofmann said. "Don't make comments in a leadership role saying, 'Oh, John Johnson is going on vacation to be in California for three weeks.' …Versus saying training…Because when Soldiers are going overseas for training events or deployments or drill, it's not vacation."
He added that employers should connect with the Employer Support of the Guard and Reserve, known as ESGR. It is a Department of Defense office that promotes cooperation and understanding between Reserve Component service members and their civilian employers and assists in the resolution of conflicts arising from an employee's military commitment.
The next Beyond the Yellow Ribbon conference will be held in spring. The mission of Beyond the Yellow Ribbon, also known as BTYR, is to establish and sustain a comprehensive community and corporate support network that connects and coordinates agencies, organizations, and resources to meet the needs of Minnesota's military veterans, service members, and families in all branches. It is composed of corporate and community networks. There are currently 78 active Minnesota BTYR companies and organizations in the BTYR Corporate Network, along with 53 cities and counties in the BTYR Community Network. To learn more about BTYR, visit https://MinnesotaNationalGuard.ng.mil.
Cristina Oxtra
Minnesota National Guard Public Affairs