Minnesota Cyber Team protects the web through partnerships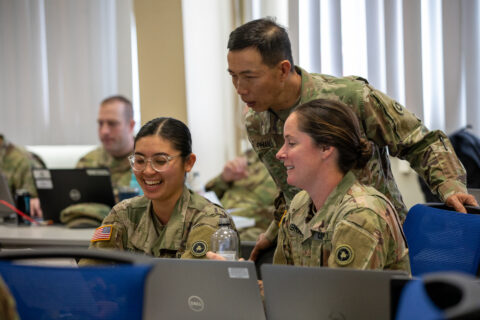 2023 ushered in a new era of modernization and partnership for the Minnesota National Guard's 177th Cyber Protection Team, as they traveled across the globe to train with partners in other states and nations. These missions honed their proficiency in the cyber domain and took them to Italy, Germany, Slovenia, Tunisia, Morocco, and Norway.

"This has been an exceptionally busy year for the 177th Cyber Protection Team," said Army 1st Lt. Kai Pederson, a cyber officer assigned to the unit. "We sent teams effectively all over the world, with quite varied missions from presenting at professional conferences, teaching students defensive cyber operations skills in Morocco and Tunisia, executing a training mission in Italy where our team successfully responded to a mock cyber-attack alongside active duty teams – which demonstrated the unique skill National Guard Soldiers bring to the overall Army force with their civilian sector experience."
Pederson, who was selected as the Minnesota National Guard cyber liaison to the Norwegian Armed Forces, began collaboratively planning for future training opportunities with Minnesota's newest State Partnership Program partner nation. In July, he met with representatives from the Norwegian Armed Forces, Norwegian Foreign Intelligence Service, U.S. Embassy in Oslo, and U.S. Forces European Command, known as EUCOM, for a cyber conference.
"During this conference, the Norwegian Armed Forces and Foreign Intelligence Service sought advice on how to develop their 'Cyber Roadmap' as their government focuses on modernizing their cyber capabilities for the newest domain of warfare," explained Pederson. "Initially, this partnership is focused on how we can assist Norway in their cyber capability development while also having knowledge exchanges where we can share our knowledge with one another in technical workshops."
At the completion of the conference, representatives from the Norway contingent expressed an interest in understanding exactly how Cyber Protection Teams operate within the National Guard and how they can possibly replicate those functions in Norway. Thus, the fiscal year of 2023 ended with the promise of knowledge exchanges and hands-on instruction to lead the way next year towards a brighter future in the ever-evolving realm of cyber warfare.
Story by Sgt. Austyn Aagaard & Staff Sgt. Sydney Mariette
Minesota National Guard Public Affairs