Minnesota Guard Safety Program focused on soldiers' health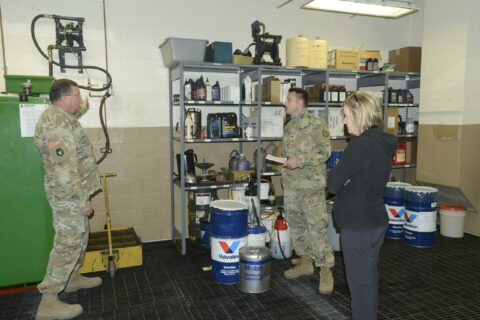 June 23, 2020 (ROSEMOUNT, Minnesota) — The Minnesota National Guard conducts 80 to 90 occupational health and industrial hygiene inspections of its armories and maintenance facilities each year as mandated by the Occupational Safety and Health Administration (OSHA) and the National Guard Bureau. Andrea Turner, the State Occupational Health Nurse, and Sgt. Anthony Sparrow, the State Industrial Hygiene Technician, tour the state to perform inspections and provide guidance.
The Minnesota National Guard's safety inspection program has been successful due to the great relationships between the inspectors, the facility managers, and the facility management office.
"We're all working for the same cause," said Chief Warrant Officer 4 Joel Ritter, the division headquarters battalion maintenance officer. "[The occupational health nurse] wants to help preserve our health and we don't want our employees to be exposed to unnecessary health risks."
Andrea Turner works out of the Troop Medical Clinic at Camp Ripley. It is her job to address any workplace hazards and make the environment as safe as possible.
Turner says the safety atmosphere in the Guard is more positive than in private industry which can be more punitive. "In this organization I have not sensed that at all.  If anything, it's about learning."
In a civilian shop OSHA inspections are impersonal. "In our environment you build a relationship," said Ritter, "so you know their expectations. I know Andrea so when I have a question I just call her and ask."
"Minnesota does put a lot of pride in our system and insists on doing the right thing," said Ritter. The Fleet Management System (FMS) facility 4 received a MN ARNG Safety Award in 2010. FMS 3 received the same award in 2014 and 2015.
The Rosemount facility in particular is a clean shop. "They are squared away," said Turner, "a clean shop is an indicator of how your inspection is going to go. Employee satisfaction is good and that leads to a clean shop." That standard is set by the shop supervisors. "If we don't keep a clean office," said Chief Warrant Officer 2 Jesse Siemer, "the mechanics are not going to keep a clean bay or a clean bench." Ritter summed up the safety mission. "The value of what we are doing is preserving soldiers' health and lives," he said, "we want to make sure everyone goes home at the end of the day as healthy as they arrived."
Story and photos by Master Sgt. Daniel Ewer, Minnesota National Guard Public Affairs