Minnesota Guardsman excels as triathlete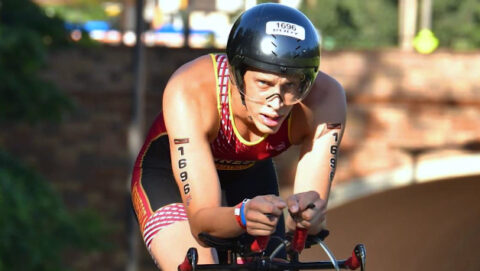 June 19, 2019 (ST. PAUL, Minnesota) — "I'm motivated to race by the rush of competition and being able to prove myself to both myself and to the people around me," said Spc. Joshua Reece, an infantryman with the 1st Combined Arms Battalion, 194th Armor Regiment. "I really enjoy the adrenaline rush of being able to put all my hard months of training onto the field between the swimming, the running and the biking."
Reece, who also works full-time as a human resources specialist in the Minnesota National Guard Joint Force Headquarters, maintains his personal fitness by training and competing in triathlons.
"I decided to start doing triathlons after growing up doing both swimming and running," said Reece. "I thought it would be a great transition from having those two sports and adding in biking which I had always done recreationally. I thought it would be a great way to combine my strengths in those three cardio-related sports."
Recently Reece qualified for the ITU Grand Final World Championships in Lausanne, Switzerland and will be competing as a member of Team USA in the Draft-Legal Sprint and Olympic Distances races
"Competition is where I'm able to show off the goals I've been training towards," said Reece. "This is where I can put all my hard work down on the table and essentially, it's not about proving myself to others, but about proving myself to myself."
Reece recently graduated from the University of Minnesota and will begin a new adventure this summer that will continue to challenge him both mentally and physically. He will be pursuing a second degree as a plebe at the U.S. Military Academy at West Point.
"Originally, I applied to West Point out of high school and, for whatever reason, I was not accepted the first time around," said Reece. "But since then, I did decide that I want to go to West Point. I want to train to become an officer and get a second degree in a place where I would be surrounded with equal-minded and equally-motivated peers who want to be in that immersed military environment."
Story by Sgt. Sydney Mariette