Minnesota Guardsman honors family's military history during promotion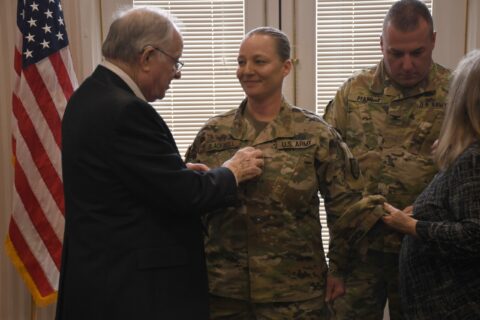 January 15, 2020 (CHAMPLIN, Minnesota) — Sgt. Maj. Katie Blackwell's brother, uncles, grandfather and great grandfather served in the military. Her family's military legacy goes back to the American Revolution.
On January 12, 2020, Blackwell honored that legacy by having her grandfather, Ford Elliott, help to promote her to the rank of sergeant major on his 90th birthday.
"My family's been super supportive throughout all my deployments," said Blackwell. "Not only is family important, but military history is very important and I think it should be honored and remembered."
Sgt. Maj. Blackwell serves as the operations sergeant major for the Minnesota National Guard's 84th Troop Command and works full-time as the commander of the Minneapolis Police Department's training unit. She joined the Minnesota National Guard in 1997 as a military police officer and has served in several leadership positions throughout her military career.
With five generations of family present, Blackwell spoke about her great grandfather's service as a civilian engineer during the Battle of Attu during World War II. He went on to later serve as a captain in the U.S. Army.
Her grandfather, Ford Elliott, started his military career in 1949 in the Minnesota National Guard's 682nd Engineer Battalion, now a subordinate unit to the 84th Troop Command. He went on to serve in Korea. Blackwell credited her grandmother for supporting him during the nearly two years he was away. Her grandparents recently celebrated their 67th wedding anniversary.
"They have truly been the glue that holds my family together," said Blackwell.