Minnesota Guardsman Inspires New Generation of Leaders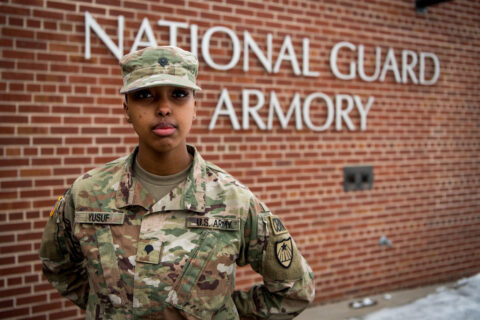 Dec. 28, 2018 (ST. PAUL, Minnesota) — The hiss of a milk steamer, the clanking of plates and silverware and the sounds of music over speakers mixed with conversations create a symphony in a local coffee shop in south Minneapolis.
Customers in the south Minneapolis coffee shop sit with their fingers on keyboards, pencils to sketchbooks or in the company of another. Spc. Najma Yusuf is the former with her computer, notebook and college textbook next to a specialty coffee, studying before heading to campus.
Yusuf is a young, ambitious Soldier in the Minnesota National Guard. She is a chemical, biological, radiological and nuclear specialist with the 434th Chemical Company out of Red Wing, Minnesota, with almost three years of service.
She epitomizes what it looks like to be a young Citizen-Soldier.
Yusuf enlisted when she was 17 years old. After attending initial entry training, she returned home to Minneapolis. Shortly after, she began taking classes at North Hennepin Community College where she is studying sociology and political science.
Yusuf is a part-time student, Soldier and bank teller. She works at Wells Fargo and loves it. She is able to live, serve and work in her own community in south Minneapolis.
In her own words, she describes herself as just a regular girl. By her actions, Yusuf is anything but average.
Almost three years after joining the Minnesota National Guard, Yusuf has stepped up in her unit. She serves as the vice president of her unit's junior leadership council. She has a passion for helping others, specifically amplifying the voices of others who may not be as loud due to position or ability.
"For me to stand up there and show that I am the face of my unit, it makes me feel really proud," Yusuf said. "I always try to find leadership opportunities wherever I can find them."
As a black, Somali and Muslim Soldier, Yusuf has also taken on an educator role.
Beginning in Basic Combat Training, she has used her diverse voice to help bridge gaps in cultural understanding, creating honest dialogue about inclusion and acceptance.
"I used to be really afraid of speaking out, if I don't speak up I won't help educate them. So that's one thing. Because if they're uneducated they'll continue to do things that they do."
Minnesota's population is growing more diverse, and the Minnesota National Guard is starting to reflect that. With social media, people post their stories, photos and videos for potentially millions of people to see. This may scare some people, but it can actually be a great way to give representation and voice to diverse communities.
Yusuf posts about being in the Minnesota National Guard mixed in with posts about her daily life. This has made her a role model to those who couldn't see themselves serving, because of their race, ethnicity, religion or gender. People message her on platforms like Instagram and ask how they can join.
"The first thing I say is, are you really serious about this?" she said. "It's a commitment you have to make."
As one of the first Somali women to serve in the Minnesota National Guard, Yusuf is an example to young girls with similar aspirations.
"It makes me feel like a role model and I really like it," she said. "Just because women serving is not culturally accepted, don't let what people have to say stop you from what you want to do. Along with a lot of support comes a lot of hate."
Much of the support Yusuf receives comes from her family in the Minnesota National Guard, she said. During Ramadan, a sacred month in Islam that involves fasting from sunrise to sunset, she was nervous about attending drill because it involved more time in the field and at the range at Camp Ripley. She doesn't wear her headscarf every day, but during the month of Ramadan it was something that was important to her. This would be the first time her unit would see her wearing it.
"At first I was a little scared, but I think that honestly, it's something that I'm proud of, so I'm not really afraid of it anymore," she said. "And a lot of my colleagues, they respect it, and they honor everything that I stand for, so that's something that I really appreciated about them."
Story and photos by Sgt. Sebastian Nemec