Minnesota Guardsman Receives Award for Combating Drugs in his Community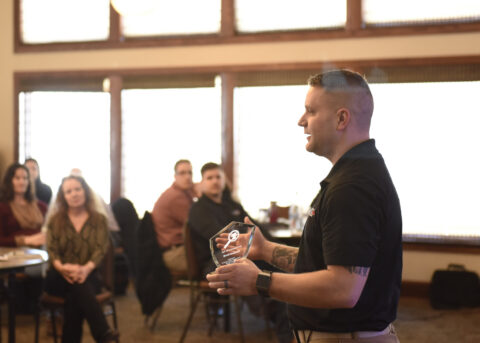 By Tech Sgt. Paul Santikko
Minnesota National Guard Public Affairs
WOODBURY, Minn. (March 9, 2018) – Staff Sgt. Benjamin Kroll, an analyst with the Minnesota National Guard's Counterdrug Task Force who is assigned to work with the Hennepin County Sherriff's Office was recognized for his achievements as the Analyst of the Year during the 2018 Minnesota Association of Crime and Intelligence Analysts Training Symposium in Woodbury, Minnesota, March 7, 2018.
Through a partnership with Minnesota law enforcement agencies throughout the state, the Minnesota National Guard Counterdrug Task Force (MNCDTF) supports the anti-drug initiatives to counter all primary drug threats and vulnerabilities through the effective application of available assets, said Maj. Jon Dotterer, Counterdrug Coordinator for the State of Minnesota. The goal for the program is to support federal, state, tribal, and local agencies in the detection, disruption, interdiction, and curtailment of illicit drugs.
Kroll is one of sixteen service members on the Counterdrug Task Force that provides this force-multiplying service to our communities against illicit drug-use. With the information that law enforcement provide through their patrols and daily operations, Kroll and his colleagues across the state assist by putting together a figurative picture with all of the gathered information which aids in identifying how to move forward with legal action to deter or prevent the sale or use of illegal narcotic drugs.
"In 2016 I saw an exponential amount of overdoses taking place within Hennepin County and I wanted to see if those occurrences would have any links to anything that would happen in 2017," said Kroll. "So in January of 2017 I started mapping everything that happened throughout the year in Hennepin County and as I did it, I started seeing patterns and trends in certain areas that got the attention of a lot of our partners."
Kroll's individual work, in conjunction with the Minnesota Departments of Health and Vital Statistics, produced a data prevention initiative that helps push out information to one collective place to aid in tracking overdoses within the state. His work also assisted in developing the Opioid Dashboard, a one-stop shop for data related to opioid use, misuse and overdose death prevention.
"Ben's role with us has been instrumental in helping identify and locate overdoses by providing analysis and mapping these incidents," said Lt. Brady Sweitzer, commander of the Hennepin County Criminal Information Sharing and Analysis (CISA) unit. "I think a big aspect for Ben is that he comes with experience and a network of analysts that can partner and identify trends or problems that are drug-related crimes across the state."
"He is our go-to guy in our office and everybody knows to go to Ben because he either has the answer or he'll give his due diligence to get that answer for them," said Sgt. Dennis Jahnke, Hennepin County CISA. "I can't say enough of how much of an asset he has been because of his impact on the issues of narcotics within our society."
Kroll's nomination came directly from his assigned-unit supervisors, Lt. Sweitzer and Sgt. Jahnke at Hennepin County CISA. The award recognizes the top analyst from across the state and every specialty of analytics in law enforcement. Kroll hopes to continue making a difference through his assignment to help the community.