Minnesota Guardsman receives national BEYA award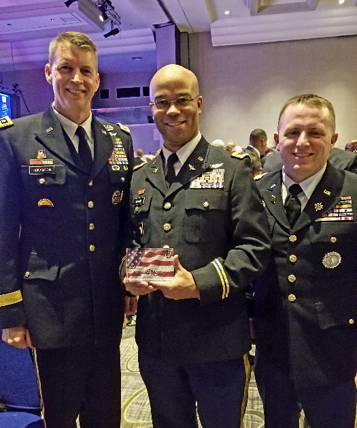 February 25, 2019 (ST. PAUL, Minnesota) — Chief Warrant Officer 3 Harry Ballard, an unmanned aircraft systems technician with the 334th Brigade Engineer Battalion, was awarded the Black Engineer of the Year Awards Science, Technology, Engineering, and Math Conference Stars and Stripes Service Military Award in Washington D.C. in February 2019.
Ballard is a notable warrant officer with over 20 years of service and a pioneer for the Minnesota National Guard Unmanned Aircraft Program. His love for aviation and aerospace technology extends beyond the military into helping youth, specifically young women, develop in science, technology, engineering, and mathematics (STEM.)
"I need to do as much as I can to get youth involved, specifically younger women involved in it because I have a couple of daughters, and I think that the sky is the limit for young kids, and young women especially, to be involved with science and mathematics," he said.
Women in STEM careers are underrepresented. Ballard has young daughters, and he has been surrounded by strong women throughout his life, which has led him to mentor young women specifically.
"Being surrounded by strong women my entire life, my mom, my grandparents, was just fantastic and gave me an appreciation for what they did for me," he said.
Ballard's leadership and technical expertise in the Guard, as well as his extensive mentorship of youth, made him an ideal candidate and awardee of the Black Engineer of the Year Awards Science, Technology, Engineering, and Math Conference Stars and Stripes Service Military Award. The award recognizes people of color who excel in their field, especially in STEM, Ballard said.
At first, Ballard felt out of place receiving the award, he said. When he attended the BEYA conference in Washington D.C., he gained more perspective. He met other like-minded people who are striving for the same goal, to help bring up the next generation of leaders, and the next generation of successful people, with an emphasis on people of color because that opportunity for so many of these people doesn't exist.
"We think alike, we work hard, and we want our youth to succeed and exceed what we've done," Ballard said of the people he met at the BEYA conference.
Youth mentorship is very important to Ballard. He volunteered with the University of St. Thomas's Science, Technology, and Engineering Preview Summer program (STEPS) from 2008-2014. He helped instruct a portion of the program that educated 6th and 8th grade girls in all aspects of STEM. He also helped students build and fly their own Radio Controlled aircraft. He has also volunteered with Visitation's Girls school since 2008.
Prior to providing mentorship, Ballard developed his expertise through taking classes at North Hennepin Community College after high school where he pursued his associate of arts degree with an emphasis on astronomy. As an enlisted Soldier, he was also one of the first National Guard unmanned aircraft systems operators to graduate with honors.
He was selected to be the primary instructor for his unit's deployment to Iraq in 2005 for unmanned aircraft systems. Following his deployment, he started the unmanned aircraft training program in the Minnesota National Guard in 2007.
"[The] Minnesota National Guard [unmanned aircraft training program]
is known for the good things that we've done everywhere we go, from the schoolhouse all the way up to the contractors and the Pentagon."
Since commissioning as a warrant officer in 2009, Ballard has continued his work as an unmanned aircraft systems technician.
Ballard is an optimistic Soldier who is passionate about helping others. His optimistic view has led him to where he is today.
"I grew up with a lot of pessimistic people, and if anything it taught me be optimistic," he said. "There's always a solution and there's always going to be a tomorrow with regard to work and life in the vast majority of cases. And if we sit around taking a negative outlook or a pessimistic outlook on life, that doesn't help anyone, including yourself."
Story by Sgt. Sebastian Nemec