Minnesota Guardsman welcomes son into officer ranks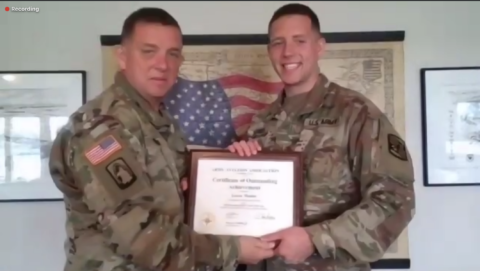 May 15, 2020 (ST. PAUL, Minnesota) — Brig. Gen. Shawn Manke, Assistant Division Commander of Operations for the 34th Red Bull Infantry Division, recently had the opportunity to participate in the commissioning ceremony of his son, Lucas, which was held virtually in response to the COVID-19 pandemic.
In these times of socially-distanced meetings, workplaces and social gatherings, official programs have gone virtual, too. The Reserve Officer Training Corps program at the University of Minnesota held a virtual ceremony on the morning of May 14. The ceremony celebrated 14 cadets who raised their right hand, swore their oath of office and earned the gold bar of the second lieutenant.
"I told my kids when they stared in their ROTC program that the three most important things in the Army at that rank is to be in the right place at the right time in the right uniform," said Manke, who served as the keynote speaker for the ceremony.
In addition to having the honor of welcoming new officers into the U.S. Army, Brig. Gen. Manke had the unique privilege of recognizing his son's remarkable achievements. As a cadet, 2nd Lt. Manke worked to set himself apart from his peers, earning two outstanding distinctions upon his graduation.
On the national Order of Merit list, comprised of 5,500 graduating seniors from ROTC programs across the country, Lucas Manke was recognized as number one. For this, he was awarded a scholarship and a personalized saber, which was presented to him at home by his father.
Manke also earned the title of 'ROTC Cadet of the Year' from the Army Aviation Association. Cadets from across all Army components; Active, National Guard and Reserve, who commission to the Aviation branch are eligible for this award. The younger Manke will follow in the footsteps of his father, who is a master aviator with nearly 3,000 flight hours.
To see these two awards go to a single individual is a very unique occurrence, worthy of celebration.
"Graduating cadets of Gopher Battalion, I congratulate you and I want to wish you the best of luck in your future journey," Manke said in closing. "Rejoice today, for soon your work begins."
Story by Staff Sgt. Linsey Williams