Minnesota Guardsmen compete for title of Best Warrior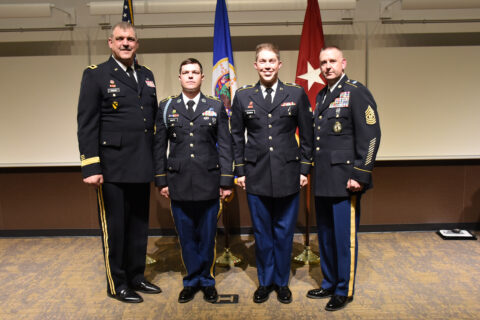 April 8, 2019 (CAMP RIPLEY, Minnesota) – Six soldiers and seven non-commissioned officers from across the Minnesota National Guard participated in the state's Best Warrior Competition, April 3-6, 2019, to be named the best among their peers.
"We talk about how leaders are the ones who know the way, they go the way and they show the way," said Command Sgt. Maj. Douglas Wortham, the Minnesota National Guard Senior Enlisted Advisor. "That's what you have done for us because you are demonstrating to others what they should be doing too, and that is proving what it is that you can do and not settling for the status quo."
Each year, units from across the state send their best soldiers and NCOs to compete in a series of events that test their mental and physical strength and endurance.
"This is tight competition," said Wortham. "You are 13 outstanding soldiers representing the Minnesota National Guard and your organizations. Win or lose, it's important that you understand – and I hope that you believe this – that you should be proud of what you've already accomplished."
On the first day of the competition, the soldiers moved right into a series of weapons tasks, demonstrating their skills in firing the M4 carbine rifle, M9 pistol and several crew-served weapons. On day two, the competitors maneuvered through day and night land navigation tasks, followed by a physical fitness event. On the third day, the soldiers conducted a stress fire event, along with a just under 12-mile road march.
"When they're out there, they're not competitors, they're colleagues that are there for each other," said Sgt. Maj. Darin Mjoen, the competition organizer.
On the final day, the soldiers completed a written test and essay before standing in front of an appearance board to answer questions. Mixed throughout all of the days were events that tested the participants' abilities to complete basic warrior tasks.
The focus of the competition was to put stress on the soldiers to see how they perform under pressure. For that reason, the competitors were not given the schedule of events each day and were moved from one event to another with little rest to see how they adapted.
"Science will tell you that your mind will quit long before your body has to quit," said Mjoen. "So the ability to control your mental stress will allow you to perform better, for longer."
Although the competition was designed to push the soldiers to their physical and mental limits, safety was at the forefront during each event.
In the end, Staff Sgt. John North with Company C, 1st Combined Arms Battalion, 194th Armor Regiment and Spc. Mason Stariha with the Camp Ripley Training Support Unit came out on top and will represent Minnesota in the Region IV Best Warrior Competition in May at Fort Custer Training Center in Michigan. "You have nothing but pride to take from this competition," said Brig. Gen. Lowell Kruse, Camp Ripley Senior Commander. "You came here as the best of your units and a couple of you are going to leave here as the best of Minnesota. This process of mentorship that you're going to take back and try to help your unit next year field the best soldiers, is one of the best ways that we can help to retain soldiers and retain the level of quality that is the Minnesota National Guard."
Story by Master Sgt. Blair Heusdens