Minnesota Guardsmen learn survival skills, train with Norwegian counterparts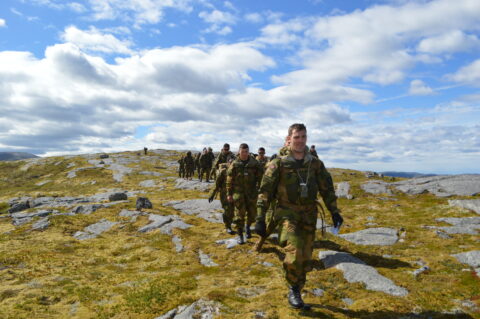 July 3, 2018 (VAERNES, Norway) — Over the course of 10 days, 100 Soldiers and Airmen from the Minnesota National Guard who traveled to Norway, June 17-26, 2018, for the 45th Norwegian Reciprocal Troop Exchange learned valuable survival skills and shared their knowledge with members of the Norwegian Home Guard. This year's exchange was the second to take place during the summer months in the history of the longest-running military partnership between two nations.
"It was a great experience for both the Minnesota National Guard and the Norwegian Home Guard," said the senior Norwegian instructor. "A cultural exchange, a social exchange and military exchange all packed into one."
The 45th exchange got off to a late start, with flight delays causing the trip to be shortened from its normal length of two weeks. The delay meant that the Minnesota Guardsmen jumped right into training, heading out to the field after just a few hours of sleep.
In place of a grueling training schedule that usually includes skiing and winter survival training, the participants hiked and climbed their way through the mountains in Norway, a far cry from the mostly-flat countryside in Minnesota. The training events were chosen to challenge the participants both mentally and physically.
In addition to the training aspect of the exchange, there is a significant focus on strengthening relationships and partnerships through cultural and social events that bring the two nations together. In a state whose residents claim ancestry largely from Germany, Norway and Sweden, many Minnesotans have a shared heritage with their partners in Norway. However, the two countries also have many unique aspects of their culture to share with the other.
"This exchange continues our friendship," said Maj. Darrin Phillips, the officer in charge for the Minnesota contingent. 'With the two cultures being so similar with the number of Norwegians in Minnesota, it reminds some of the soldiers and airmen of their roots and where we came from."
At the same time, a contingent of Norwegians traveled to Camp Ripley, Minnesota, to participate in training with members of the Minnesota National Guard. The Norwegians participated in domestic response training alongside Minnesota National Guardsmen and local civilian law enforcement agencies and experienced a taste of Minnesota culture and food.
The Norwegian Reciprocal Troop Exchange began in 1974 to promote goodwill and build military readiness between the two nations.
Story by Master Sgt. Blair Heusdens