Minnesota Guardsmen provide support to 59th Presidential Inauguration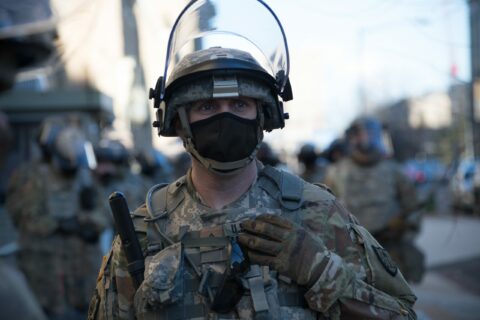 January 22, 2021 (Washington, D.C.) — Nearly 750 Minnesota National Guard Soldiers and Airmen answered the call to support local and federal law enforcement agencies in the security of the 59th Presidential Inauguration earlier this week.
"Last week, I saw all the Guardsmen coming out here [Washington, D.C.] from different states and I said to myself, 'this is something I really wish I could do,'" said U.S. Air Force Staff Sgt. Mark Peloski, a member of the 133rd Airlift Wing Security Forces Squadron, Minnesota National Guard. "So when I got that phone call, I was super excited."
More than 200 Airmen from the 133rd Airlift Wing and 148th Fighter Wing and more than 500 Soldiers from the 682nd Engineer Battalion and B Troop, 1st Squadron, 94th Cavalry Regiment responded to a short-notice request for support, packing up their gear and conducting training to get to the Nation's capital within just a few days' notice.
"National security events, like the inauguration, require rotational support from across the country to be successful," said U.S. Army Col. Scott Rohweder, Minnesota National Guard director of operations. "In the recent past, we have sent as few as zero and as many as 350 Guardsmen to support the inauguration. We are proud and ready to serve the nation at this historic event."
For this inauguration, the number of service members on the ground reached more than 26,700 National Guard men and women from 50 states, three territories and the District of Columbia (D.C.), an unprecedented number for presidential inaugurations. These National Guard men and women were authorized to conduct security, communication and logistical missions in support of federal and District authorities leading up and through this historic event.
"Our ability to move 26,000 Soldiers and Airmen to D.C. from every state and territory in less than two weeks would not have been possible without the support of our governors and their adjutants general," said Army Gen. Daniel Hokanson, chief of the National Guard. "It speaks volumes about America's investment in the National Guard; and most importantly, the support our service members get from their family and their employers."
Minnesota National Guard service members took part in Task Force Metro – Team Crowd and were responsible for staging their troops at strategic points surrounding the capitol, ready to respond to any situation the local and federal agencies called on them to do.
"What I enjoyed most about this mission was being able to come out here and really intermingle with the local and federal agencies, my Army counterparts, other career fields within the Air Force, and come together as a team to accomplish this really big mission of ours," said Peloski.
Missions began in the early hours of 2 a.m. for most Minnesota National Guard Soldiers and Airman as they donned their body armor, strapped their gas masks to their hips, and rode buses to their designated guard stations ready for any situation the day brought. Thankfully, Jan. 20, 2021, remained a quiet and peaceful day with most service members able to pause and take in the personal part they played is this historic event.
"I'm proud of the dedication and professionalism of our Airmen and Soldiers who, on very short notice, answered the call to help ensure the peaceful transfer of power in our nation's capital," said Maj. Gen. Shawn Manke, the Adjutant General of the Minnesota National Guard. "Much has been asked of our Minnesota Guardsmen this past year and I want to thank not only the Soldiers and Airmen, but the families and employers who sacrifice so that our Soldiers and Airmen can serve."
With the inauguration ceremony for President Joe Biden, the 46th commander-in-chief, successfully completed, Minnesota National Guard Soldiers and Airmen continue to stand guard to ensure a prevailing peace within the city. National Guard service members will return to their home states gradually, based on the needs of the lead agencies and the conditions on the ground.
"My biggest take-away from this historic event is that one day I'm going to be able to sit down and tell my kids about how unique of an experience this was and how I was able to answer my Nation's call with the Minnesota National Guard," said Peloski.
Story by Sgt. Sydney Mariette, Minnesota National Guard public affairs