Minnesota Guardsmen return to Minnesota after nine-month deployment to Kuwait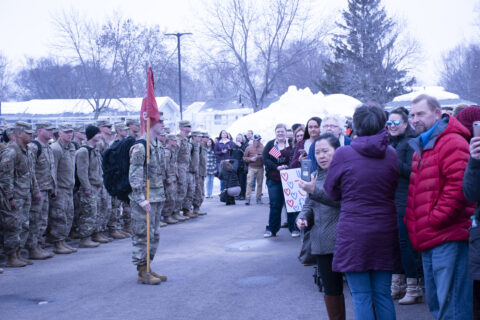 March 12, 2019 (ST. CLOUD, Minnesota) – Approximately 160 Soldiers from the Minnesota National Guard's 851st Vertical Engineer Company returned March 12, 2019, from a nine-month deployment to Kuwait in support of Operation Freedom's Sentinel.
While deployed, the Soldiers completed construction projects in support of military units in several countries to include Kuwait, Qatar, Jordan, Syria, the United Arab Emirates and Afghanistan. The unit primarily focused on general construction projects to improve living and working facilities, as well as force protection at military bases in the Central Command area of operations.
"It ran the gamut of pretty important to minor stuff," said Capt. Brandon Johnson, the company commander. "But all of it added up to improving the quality of life for Soldiers."
Johnson thanked the Soldiers for their hard work and encouraged them to look out for each other as they go through the process of reintegrating back to their lives after deployment. The Soldiers will participate in events in the coming months that facilitate reintegration and provide resources for readjusting.
"They were professional, they worked hard, they got it done and they knew what they were doing," said Johnson. "Everywhere we went people were very pleased with the work that they were doing."