Minnesota kicks off Month of the Military Child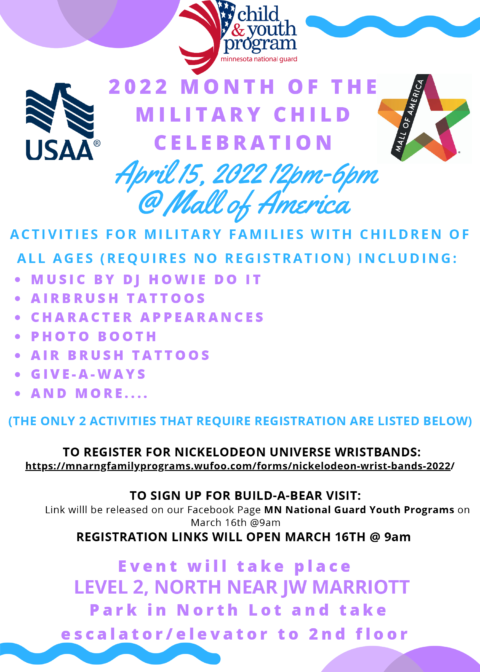 Each April, Month of the Military Child provides the opportunity for Americans to celebrate and thank the children of service members and Veterans.
The Minnesota National Guard will celebrate the Month of the Military Child at the Mall of America on Friday April 15th. There will be an array of activities for children and their families.
Laura Groeneweg, the lead child and youth coordinator for the Minnesota National Guard, is looking forward to the festivities.
"In Minnesota, we have a tradition of celebrating all month with several fun initiatives for kids and families," said Groeneweg. "There is an art contest for kids to enter their artwork in with first, second, and third place prizes in four different age categories. There is also a photo contest in which USO and Geico provide prizes for first, second and third place. Parents can request a letter from the governor that is addressed to their military child."
Due to staffing and resources negatively impacted by the COVID-19 pandemic, this year's event will look a little different.
Nickelodeon Universe will not be able to operate at full capacity, so families should anticipate longer wait times for rides said Groeneweg.
"There will be a limited number of day-of wristbands available for out-of-town attendees. These wristbands will be first come first serve – no exceptions," said a Mall of America representative. "All other wristbands will become available for use the following day on Saturday, April 16. Please note that these wristbands never expire. All wristbands will be available for pick-up at the event from Noon – 6 p.m."
Despite this year's hurdles, Groeneweg said there will be plenty of events for the attendees to participate in, "We have a private event space in the Culinary North 2nd floor area. There will be snacks, airbrush tattoos, music, vendors and snacks. No registration needed to attend the private event."
By Bob Brown
Minnesota National Guard
Public Affairs
Editor's note: For more information, please refer to the flyers, and have a wonderful Month of the Military Child.