Minnesota National Guard activated for Red River flood response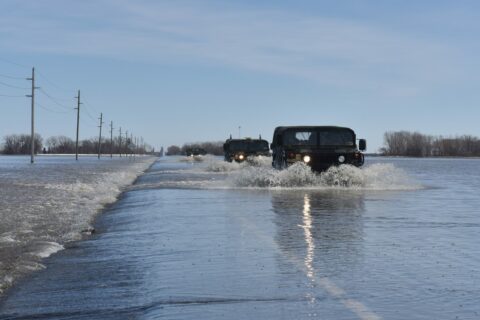 April 8, 2020 (OSLO, Minnesota) — Governor Tim Walz signed Executive Order 20-30 Tuesday, activating the Minnesota Army National Guard to provide assistance for spring flooding in Marshall County.
On Wednesday, nearly 20 Soldiers from the Moorhead-based 2nd Combined Arms Battalion, 136th Infantry will mobilize to Oslo, Minnesota, to assist with monitoring levees and flood protection systems, as well as supporting potential rescue and evacuation operations.
Last April, Soldiers from the 2-136 Infantry provided support to Marshall County for two weeks, assisting residents with transportation of personnel, supplies and mail into and out of Oslo while the access road was flooded.
About the Minnesota National Guard
Established in 1856 and headquartered in St. Paul, the Minnesota National Guard has more than 13,000 soldiers and airmen who serve in 61 communities across the state. The Citizen-Soldiers and Airmen of the Minnesota National Guard are 'Always Ready' to fight the nation's wars, protect the country, respond to state emergencies and contribute to local communities. News, insights and perspectives from the Minnesota National Guard are available at MinnesotaNationalGuard.ng.mil.
Media questions can be directed to the Minnesota National Guard public affairs office at mn.ng.web@mail.mil or 651-282-4410.