Minnesota National Guard activated for winter storms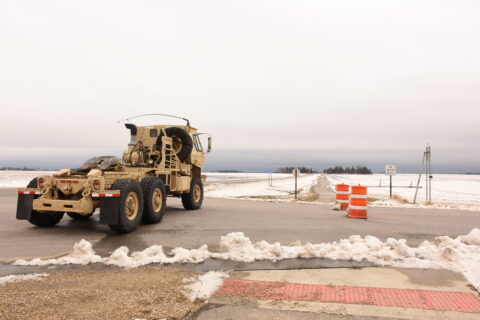 April 12, 2019 (AUSTIN, Minnesota) — On Thursday, April 11, the Minnesota Army National Guard was activated in southern Minnesota in response to winter storms as Governor Tim Walz signed an Emergency Executive Order.
Thursday, April 11 at 6 p.m., Soldiers of the 224th Transportation Company in Austin were activated. Throughout the evening Soldiers arrived, with 134 working through the night providing traffic control with police while workers performed restoration maintenance on power lines. As of noon today, 30 Soldiers are supporting the manning of five traffic control points in Mower County. Sixty Soldiers are supporting the manning of 19 traffic controls points in Freeborn County. The remaining personnel are providing maintenance, as well as delivering fuel and food to Soldiers. Vehicles from Olivia and Rochester, along with Austin are being used in the response.
Additionally, the Owatonna and Albert Lea Armories were open for shelter beginning at 6 p.m. last night. The Owatonna Armory had 14 people without power come in to use the facilities and shower over a 12-hour period. Two people used the shelter for warmth overnight. The Albert Lea Armory had no one use the facility overnight.
This is the third State of Emergency for the Minnesota Army National Guard in 2019. Other winter storm activations include February 7-8 in Renville County and February 23-24 in multiple counties. Additionally, the Minnesota National Guard provided Emergency Management Assistance Compact (EMAC) assistance to the State of Nebraska from March 19-28.
About the Minnesota National Guard
Established in 1856 and headquartered in St. Paul, the Minnesota National Guard has more than 13,000 soldiers and airmen who serve in 61 communities across the state. The Citizen-Soldiers and Airmen of the Minnesota National Guard are 'Always Ready' to fight the nation's wars, protect the country, respond to state emergencies and contribute to local communities. News, insights and perspectives from the Minnesota National Guard are available at MinnesotaNationalGuard.ng.mil.
Media Contact:
Capt. Melanie Nelson
melanie.k.nelson.mil@mail.mil, Office: 651-282-4670,
Cell: 651-435-0857
OR
Master Sgt. Blair Heusdens,
blair.l.heusdens.mil@mail.mil, 651-282-4414