Minnesota National Guard breaks ground on new facilities in New Ulm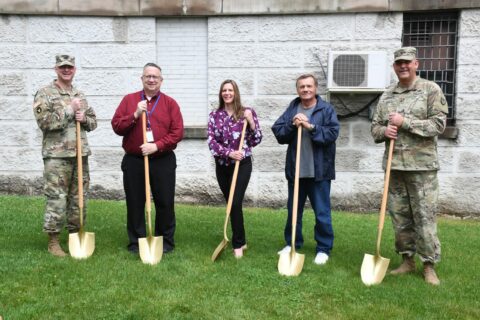 May 20, 2021 (NEW ULM, Minnesota) — The Minnesota National Guard broke ground today on a nearly $30 million construction project in New Ulm to build a new Field Maintenance Shop and a new Readiness Center over the next four years.
The coordination and vision for the project began a decade ago between the city of New Ulm and the Minnesota National Guard to identify a site with 30 acres that the city could purchase so the Minnesota National Guard could initiate the years-long process to requesting federal military construction funding for the project.
"It's great working with cities that have that vision and the foresight to invest longterm," said Col. Sol Sukut, the Minnesota National Guard Construction and Facilities Maintenance Officer. "It is a long-term investment in a community and in full-time jobs and families that are going to move to New Ulm and work to support the Guard."
The new Field Maintenance Shop, or FMS, will be built first, with construction beginning now and an anticipated completion in the spring of 2022. The new facility will be triple the size of the current 1950s-era facility and will be large enough to accommodate the maintenance of units from across Southcentral Minnesota.
"The days of having a maintenance shop that supported one battalion are over," said Brig. Gen. Lowell Kruse, Assistant Adjutant General of the Minnesota National Guard. "We need that capability to be very flexible and be able to support lots of different capabilities and this new shop will do that."
In the longer term, the Minnesota National Guard will build a new Readiness Center to replace the current facility which was built in 1914. The New Ulm Readiness Center is currently the oldest facility in the Minnesota National Guard's inventory.
"I appreciate the partnership with the city of New Ulm," said Col. Stephen Burggraf, the Minnesota National Guard Director of Logistics. "It's always great to have city partners that support our mission and what we do."
Story by Master Sgt. Blair Heusdens, Minnesota National Guard public affairs