Minnesota National Guard celebrates 25 years of partnership with Croatia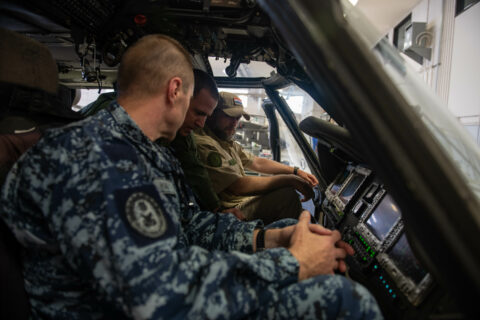 July 25, 2021 (ST. PAUL, Minnesota) – The Minnesota National Guard is celebrating 25 years of partnership with Croatia under the National Guard's State Partnership Program.
"It's a resonating part of the Minnesota National Guard/Croatia partnership that it is built on a bedrock of professionalism, knowledge and knowing that you're there to share experiences," said Maj. Gen. Michael Wickman, commanding general of the 34th Red Bull Infantry Division.
The partnership started in 1996 with familiarization events which have over the years developed into hands-on training and military exchanges, and recently has grown to include civilian exchanges between government officials and experts in critical fields like cybersecurity. Minnesota universities and Minnesota-based companies have sent cyber experts to Croatia for symposiums and workshops focused on improving cybersecurity.
This partnership proved crucial in building relationships that have benefitted both countries. Soldiers from Minnesota and Croatia partnered together to send five Operational Mentoring Liaison Teams to Afghanistan starting in 2008. The teams provided support to the Afghan National Army to increase the capabilities of the Afghan Security Forces.
"That was such a significant measure of operational success for this partnership program," said Wickman. "It shows interoperability in a combat situation."
In 2009 Croatia became a full member in the North Atlantic Treaty Organization, a recognition of the transformation that occurred in modernizing their military and moving toward a NATO model. In 2013 Croatia was also accessed into the European Union. Over the years the Minnesota National Guard has provided support with common, shared issues such as homeland defense, civil response, disaster response, humanitarian assistance, support to civilian authorities, peacekeeping operations, border security and, most recently, cyber security.
In honor of the 25th anniversary of the partnership, a delegation of Croatian senior military officials visited Minnesota to meet with Governor Tim Walz, tour Camp Ripley, visit with cyber security leaders at Metropolitan State University, and familiarize themselves with the UH-60 Black Hawk helicopter.
"It's been a journey for us, a journey in which the Croatian Armed Forces has gone through a significant transformation," said Admiral Robert Hranj, the Croatian Chief of Defense. "We came out of the war-torn country, we joined NATO, we joined the EU, we've participated in many international operations, many times with Minnesota National Guard units, making on some occasions, joint units. And for all these changes in the Croatian military, cooperation with the Minnesota National Guard played a huge role."
The partnership is truly one in which both sides benefit by sharing information and best practices, and building relationships amongst allies.
"There's always something you can take from another nation, another soldier, that you can grow with and bring back to your unit," said Maj. Lukas Wright who deployed as part of an Operational Mentoring and Liaison Team.
Through the State Partnership Program, the National Guard maintains long-term relationships that strengthen alliances; enhance interoperability; reassure allies; deter adversaries; and build partner capacity to meet emerging challenges across the spectrum of military operations.
"The environment is complex, it crosses borders, and we need partners," said Wickman. "You can't do things unilaterally. You really have to have great relationships and partners to deal with these complex issues that span the globe."
The Minnesota National Guard's relationship with Croatia remains important as the United States continues to demonstrate its commitment to security, peace and stability in Europe and to deter regional aggression.