Minnesota National Guard celebrates Black History Month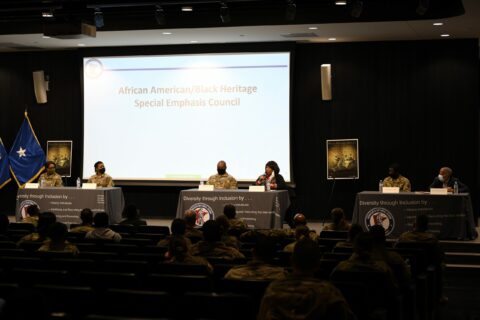 February 28, 2021 (ARDEN HILLS, Minnesota) — The Minnesota National Guard's African American/Black Heritage special emphasis council hosted a Black History Month panel, February 26, 2021, at the 34th Infantry Division Headquarters in Arden Hills, Minnesota. The panel featured six current and former members of the Minnesota National Guard, representing officer and enlisted, male and female, and Army and Air Force.
"I'm so proud to serve with all of you," said Brig. Gen. Sandy Best, Deputy Adjutant General of the Minnesota National Guard and also the Executive Champion of the African American/Black Heritage special emphasis council. "I sincerely appreciate your service and you sharing your personal stories – all great examples of how black history is being made every day in the Minnesota National Guard."
February marks Black History Month, a tribute to African American men and women who have made significant contributions to America and the rest of the world in their respective fields. The military history of African Americans spans from the colonial history of the United States to the present day.
The participants in the panel included retired Maj Gen (brevet) David Hamlar, the Minnesota National Guard's first black general officer; retired Col. Angela Steward-Randle, who retired in 2018 as the Director of Human Resources, Manpower and Personnel; Capt. Takeisha Hunt, commander of the 147th Human Resources Company; Master Sgt. Alicia Lagarde, the 148th Fighter Wing Equal Opportunity Advisor; Sgt. Kevin Blount with the 224th Transportation Company and Senior Airman Chiagozie Chijoke with the 210th Engineering and Installation Squadron.
During the panel, participants spoke about their experiences and answered questions about why they joined the Minnesota National Guard, what their goals are for the future and how they have overcome obstacles to get where they are.
LaGarde spoke about what motivates her to succeed in her position at the 148th Fighter Wing. "I have a young son who's nine years old. So I want him to see me as a positive role model. I want to influence him and everyone else around me."
Blount spoke about the advice he gives to others who might be hesitant about joining the Minnesota National Guard. "You can always go back to the places you've been, but you can never go back to the places you never went."
Steward-Randle shared the importance of having someone tell her early in her career to set her goals high. "As you're working with Soldiers and you see something in them, tell them and make sure that they know it, so then they have something to work towards and they know that they have self-worth."
The Minnesota National Guard African American/Black Heritage special emphasis council plans to host an event quarterly to continue to highlight the diverse Guardsmen who contribute every day to the success of the Minnesota National Guard and their communities.
"The focus here is the success that comes from diversity," said Maj. Gen. Michael Wickman, 34th Red Bull Infantry Division Commanding General. "It adds richness and it benefits us as a community and as a society. But it doesn't just inform us, it must inspire us as well."
To watch the video from the panel, visit https://fb.watch/3XJ0WATmIW/.