Minnesota National Guard celebrates Hispanic heritage month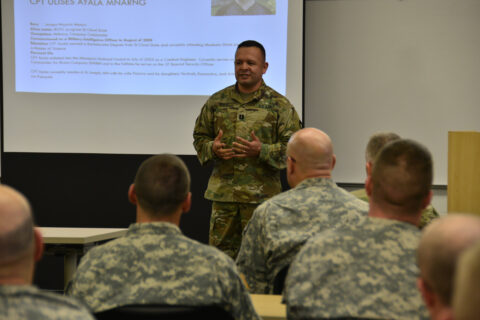 By Master Sgt. Blair Heusdens
Minnesota National Guard Public Affairs
ARDEN HILLS, Minn. (Oct. 16, 2016) – The Minnesota National Guard celebrated Hispanic Heritage month by inviting two members of the Hispanic community to share their stories during a potluck lunch at the Arden Hills Army Training Site, Oct. 11, 2016.
First to speak was Minnesota State Senator Patricia Torres Ray, one of two Latinas out of 67 senators in the Minnesota Senate. She spoke about her experience coming to the U.S. from Colombia and how not being able to speak the language made it a challenge to connect with people in her new country.
"I was not a minority in my country, because everybody that I knew looked like me," said Torres Ray. "I was not connected to the multi-cultural global world that you live in."
The senator went on to say that while her knowledge of the military before she became a senator was limited to what she saw on TV, she's come to better understand the needs of military members and their families and the opportunities and experiences the military provides for its service members.
"You have this opportunity – you travel all over the world, you see all people, you speak with people from all over the world with different languages – so you're really uniquely positioned to understand what this world is about and what conflict is really about," said Torres Ray.
Torres Ray urged the military members in attendance to use their experience with people from other cultures to help others understand the importance of working and communicating with people from different backgrounds.
"You really understand how to interact with kids and with seniors with people with whom you cannot even communicate," said Torres Ray. "That's your work and we need to learn from you."
Capt. Ulises Ayala, commander of Company B, 34th Red Bull Infantry Division headquarters, spoke about his journey to America as a youth in Mexico. Throughout his life, Ayala had to overcome many obstacles in order to learn the language, obtain his U.S. citizenship, find a job, finish college and join the military.
"I learned to turn those negatives into a positives," said Ayala. "The positives are easy – they're given to you. The negatives, to turn them into a positive, that's what takes time, that's what you learn from."
The two individuals' stories represented just a tiny slice of the experiences of those in the Hispanic community in the United States, but brought a greater understanding to those present in the audience.
"There's hundreds and hundreds of people knocking at this door trying to get in," said Ayala. "I'm just one story among millions of stories. It's unbelievable the opportunities this country has."