Minnesota National Guard commemorates 23rd Annual Bataan Memorial March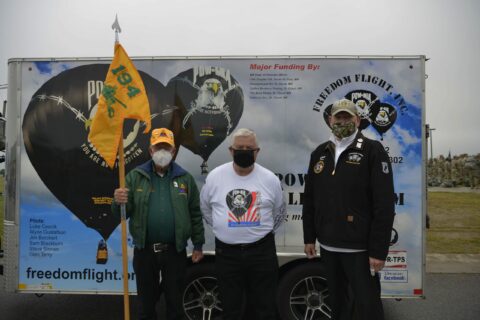 September 21, 2020 (CAMP RIPLEY, Minnesota) — On September 12, 2020 the 1st Combined Arms Battalion, 194th Armor hosted the 23rd annual Bataan Memorial March in remembrance of all those who were forced to participate in the Bataan Death March and those who lost their lives as a result thereof. This year the event had a change of venue due to armory renovations and road construction near the Brainerd Armory. This year they hosted the event at Camp Ripley with over 500 participants.
Most people are familiar with the POW/MIA Flag often seen in parades and at veteran's memorials. However, very few people could give you an example of a major POW event. Nor could most people imagine the conditions and horrible treatment brought upon POWs. One of the most horrific and disheartening POW events in us military history was the tragic Bataan Death March of 1942.
The Bataan Death March came after months of fighting in the Philippians following the Pearl Harbor Attack. Fighting, unfortunately, ended with an allied surrender. Over the days that followed over 70,000 allied troops, including troops from Minnesota, marched a miserable 65 miles to be loaded into crowed boxcars and transported to the Japanese prisoner of war camp in the northern Philippines. Thousands of allies lost their lives including hundreds of US troops. Of those killed in the Philippians were Minnesota National Guard members out of the Brainerd based 194th AR (CAB). Out of 64 that were sent to the Philippines, only 32 soldiers ever returned home.
It is an honor for many of the soldiers participating to be able to be partake in this event. SGT Carrie Neese, who placed first in the Women's Run/Walk, says participating in the march means honor, respect, history, and sacrifice to her.
"Those 78,000 individuals who were forced to march the 60 miles, with little to no food or water alone is worth my "sacrifice" of 2 hours just to have the privilege to run," said Neese. "They didn't get that option. Many of them were forced into POW camps, while after I run, I get to relax and enjoy my "victory". The history should always be remembered because serving and sacrificing their rights and their lives for us and for our future, needs to be remembered. I remember the men that actually survived and lived through all their pain when I want to take it easy, quit, or just not go. They didn't get that option; It was march or die. They deserve to be honored and the respect of me giving my best. No matter how hard I think it feels at that moment."
Though these are her thoughts and feelings on the memorial event, many others feel the same. For this and many other reasons, this event is carried out annually. In following the US Military values, respect is given and honor awarded to those who suffered and/or died during this tragic march in 1942. We remember always those who came before us and carry their honor forward to future generations. As the 194th's Motto states, "Remember Bataan… Never Forget!"
Story by Spc. Sara Messner, Camp Ripley Public Affairs