Minnesota National Guard family embraces service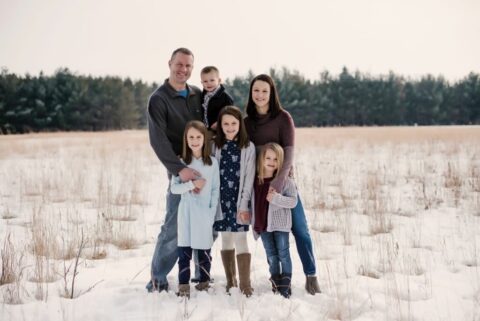 April 30, 2021 (CAMP RIPLEY, MINNESOTA) – Each April, Americans recognize and honor the more than 2 million military children during the Month of the Military Child.
For one Minnesota National Guard family, balancing a deployment, State Active Duty and four kids is taxing.
"It's challenging, especially with a dual military family," said Capt. Angela Ebert, Company Commander of the 175th Forward Support Company. "But I think it's rewarding too. One of the things that happens with military kids is they grow up faster; mine have been able to do the dishes, the laundry and help out around the house probably sooner than some of their schoolmates."
Both Angela and her husband Maj. Andrew Ebert served on military orders away from home during the Month of the Military Child. Angela's unit was activated during the state's response for Operation Safety Net just after Andrew began a deployment with 134th Brigade Support Battalion and Task Force 1-194.
Because of COVID-19, the Task Force did not have a typical deployment ceremony. Instead, they hosted a virtual ceremony before they mobilized to Fort Bliss, Texas.
The next day, all six of the Eberts piled into their car to take Andrew to the armory. As he joined the other soldiers inside, tears streamed down the children's faces.
"As a parent, it's hard to watch your kids be sad," said Angela. "But we spent the day together, as the five of us that were left and by the end of the day they were back to normal."
When it came time for Angela to serve in the cities, they already had a plan set in place. To keep up their routine at home, the four children, Abigail, 9; Ainsley, 7; Arlee, 5; and AJ, 2; stayed home while Angela's mother cared for them until her return.
"I left at four in the morning," said Angela. "I didn't even say goodbye to the kids."
The Eberts say they are lucky to have a support system with grandparents and other family friends who are able to help them when they need it. Angela wanted someone they knew and loved to take care of the kids while they were away to minimize the impact of the separation.
One of the biggest pieces of advice she had for other soldiers is to take advantage of the connections you make. She encourages other soldiers with children to reach out if they need help with childcare or anything because there are people willing to help.
"Making your community larger will assist you in taking care of your family if you deploy or are called on a State Active Duty mission or even an annual training event," said Angela.
Even though both parents were away from their kids, they have been able to communicate when time allows it.
"Once we got into more of a steady state operation, I was able to call home every day and talk to them," said Angela. "There were even a couple of times that we were able to do a three-way video call with Andy."
When Angela first joined the military, she remembers thinking, "If I am going to serve, I want to be as impactful as I can be." She holds a lot of pride in caring for soldiers. Both Eberts come from families with military backgrounds and share that pride.
Despite the challenges of the last year, Angela is especially proud to have been able to serve the State, the country, her soldiers, and their families.
"During COVID when kids had to do school from home, I had to bring my oldest two into my office just for a couple hours to get some work done," said Angela.
As they sat at her desk completing their schoolwork, her daughter Abigail drew a soldier.
"But she made it a female soldier in the full battle rattle with a weapon and a ponytail," said Angela.
When she was finished, she had drawn an arrow next to it and wrote "mom".
"We hung it up in my office and it was fun to see how your children look up to you, said Angela. "It does not matter what your job is; they think you are the coolest person ever for being a soldier. It's still hanging in my office because it makes me laugh."
Story by Sgt. Mahsima Alkamooneh, Camp Ripley public affairs