Minnesota National Guard JAG officer invested as Tenth Judicial District judge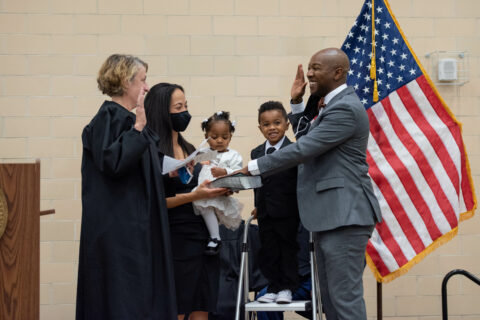 Oct. 28, 2021 (ST. PAUL, Minn.) – An investiture ceremony was held on Oct. 22, 2021, in St. Paul, Minnesota, for Jesse L. Seabrooks II, a captain who serves as the operations law judge advocate for the 1st Armored Brigade Combat Team, 34th Infantry Division, as a newly appointed judge of the District Court for the Tenth Judicial District.
Seabrooks has served with the Minnesota National Guard since 2018. He deployed in 2017-18 in support of Operation Enduring Freedom/Operation Spartan Shield.
Prior to becoming a judge, he was the assistant county attorney in Washington County where he prosecuted a variety of felony and gross misdemeanor offenses.
"He brings a servant mentality and a humility that I see every day," said the Honorable Douglas Meslow, judge of the Tenth Judicial District. "He brings respect for everyone that he meets. This job is about service, and Jesse Seabrooks is a servant."
Seabrooks was appointed by the Governor of Minnesota in June 2021 to replace the Honorable Kathleen A. Mottl.
"I am excited to appoint Jesse Seabrooks to the Tenth Judicial District," said Governor Tim Walz. "Mr. Seabrooks has a broad range of legal experience – including as a Brigade Judge Advocate in the Army National Guard. I am confident that his strong desire to serve and deep commitment to the people of the Tenth Judicial District will make him an excellent judge." Seabrooks earned his B.A. from Ohio University and his J.D. from Capital University Law School.
Story by Sgt. Sebastian Nemec
Minnesota National Guard Public Affairs