Minnesota National Guard leader reflects on pivotal career moment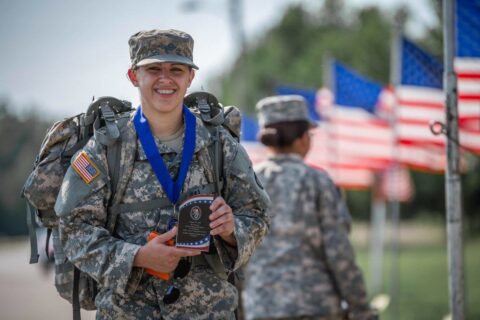 September 14, 2022 (Camp Ripley, Minn.) — Minnesota National Guard Staff Sgt. Ashley Watson joined the Army in 2008 as an administrative assistant but quickly decided she was destined for combat arms.
Joining the military as a tanker was a lifelong goal she had already made at 12 Years old. The influence behind this decision came from a long familial history of veterans who served in combat specialties through various branches. However, Watson would join during a time when females were excluded from combat missions and chose an administrative position instead.
"It wasn't what I wanted. I wanted to be in the field and action; I wanted that comradery and experience," says Watson. "I wanted to be a tanker. It was a driving force for me to be in the military, and when I found out I couldn't because I'm a female, I was devastated. I couldn't understand why being a female was disabling. That shouldn't be the reason anyone is held back from a job."
Even though it wasn't what she truly wanted, her job exposed her to women in higher leadership positions who offered her the mentorship she desired. Command Sgt. Maj. Cynthia Kallberg, Minnesota National Guards' first female Senior Enlisted Advisor, shared her knowledge and helped coach Watson in ways that would make the transition into a combat arms unit achievable.
The Pentagon removed the ban on women in combat positions in 2015, and that same year, Watson transferred into the 1st Combined Arms Battalion, 194th Armor Regiment.
When the ban was lifted, there were heavy public opinions about it. Many of these opinions opposed women from joining the combat units for different reasons, all of which created friction and barriers between the receiving units and the female Soldiers entering their ranks.
" It was a shock for them, and it was kind of a shock for me too, but I didn't take anything personally, " explained Watson.
She combated the confusion and adversity with her "go with the flow" attitude. Her philosophy was that she could achieve considerable changes if she just took things in stride and presented her best work.
Watson said, "When I came into this, I expected I would have to change and adjust to be able to fully integrate with them and gain their trust. I put in a lot of sincere effort to earn their respect. I think the biggest change I saw was when we did the Bataan Memorial March."
Her earliest memory of shifting opinions was when she had competed in the Brainerd Bataan Memorial March. Watson decided to use this as an opportunity and enrolled in the Heavy 20 Mile Ruck Event. This event would require her to carry 35 pounds or more for the entire length of the 20 miles within the time the course is open. The participants take this ruck personally; most carry water separate from the weight in the ruck because it could jeopardize them being underweight at the end, which would disqualify them from the march. Many people begin this race but fall out due to injury, illness, and exhaustion.
"Being the person I am, I thought, go big or go home, and enrolled in the 20 Mile Heavy Ruck. So I packed my bag and started walking," said Watson.
Once she reached mile 18, the battalion command sergeant major stopped to check on her. He had made it a point to urge her to keep going, but he was also surprised by her grit and courage to do something other females were not doing then. Watson hadn't seen anyone for a while, so she assumed she was last and took the check-in as her hint to move faster.
"I didn't see anyone in front of me or behind me, so I started picking up the pace, thinking I was last and way behind."
At the quarter-mile mark, the end was in sight. A group of Soldiers were sitting and waiting, but as Watson approached, they all began to rise. The service members who didn't finish or didn't try were cheering her across the finish line.
"As I'm coming in, they all start applauding me, and there's a lot of them; at first, I thought they were clapping because I was actually done." said Watson.
She did not know why they were applauding her or what she had accomplished at the time. After officially finishing the ruck march, Watson learned that she was the first female to have ever complete the 20-mile heavy ruck event in the Brainerd Bataan Memorial March. She also finished in 5th place overall.
"I didn't think it was that big of a deal then, but looking back now, it's incredibly profound," explains Watson. "After this achievement, I saw a massive shift in the opinions and actions of the men I was serving with."
Before this, there were many assumptions made about females serving in combat that Watson had experienced. Watson used her strength, courage, and hard work to disprove them and break down the barriers causing animosity.
Watson knew that her actions could positively or negatively affect the future culture of her unit. She sought to change opinions and bias for not only herself, but all that would come after her. "I wasn't just trying to be an example for myself; I was hoping whatever progress I made would be extended to the future females of the unit."
Stories like hers demonstrates the strength and persistence that women can bring to previously denied leadership roles – which happens to be the theme for the 2022 Women's Leadership Forum: Bridge over Barriers. The annual leadership conference promotes equality awareness while developing the leaders of today and the leaders of tomorrow.
This year the event is being hosted at the General Mills headquarters in Golden Valley on Saturday, September 17, 2022, from 8-4 p.m. There is still time for service members to register for this event through the Women's Leadership Forum Facebook page or attend virtually via their Facebook Livestream.
The next generation of leaders, including noncommissioned officers like Watson, are striving to change the past culture to make way for the Army of the future. The Minnesota National Guard values diversity and inclusion across the force, and one of the ways that message is shared is through the Women in Leadership Forum; we hope to see you there.
Sgt. Austyn Flippin
Camp Ripley Public Affairs