Minnesota National Guard Leaders, Children Meet with First Lady Biden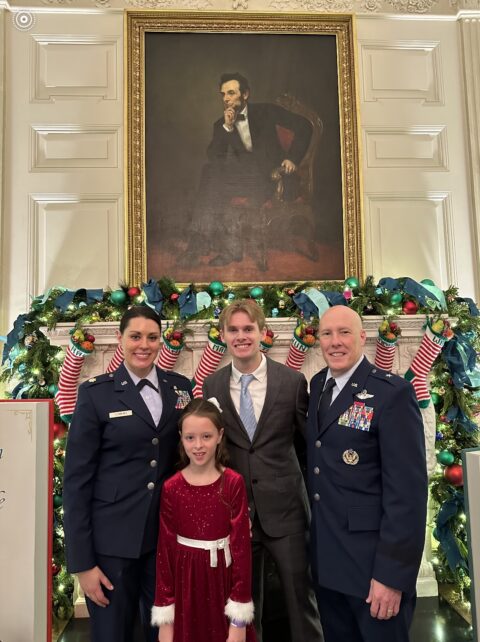 MEDIA ADVISORY: For Immediate Release
November 28, 2022
WASHINGTON, D.C. – Today, First Lady Jill Biden met with two members from the Minnesota
National Guard's 133rd Airlift Wing and their children as part of her Joining Forces initiative to
support military families.

"This meeting was a wonderful opportunity for the First Lady to hear directly from Guard
youth," said Air Force Brig Gen. Daniel Gabrielli, Minnesota National Guard's Assistant
Adjutant General-Air. "She stressed to the children the importance of speaking up and letting
teachers know their mom or dad is serving in the military."

As a National Guard mother, Dr. Biden wanted to show appreciation for, and honor, the special
role the National Guard plays in serving our country. The conversation focused on the
experiences of seven National Guard children participating in the roundtable, and how their
communities and schools can support them.

Seven children from six states participated in the roundtable discussion. Minnesota Guard
member Air Force Maj. Katie Lunning's daughter, Adeline Lunning (9) and the youngest
participant, sat next to the First Lady. Gabrielli's son, Teddy (20) observed a second session with
the Joining Forces staff.

"Military parents shouldn't take their kid's resiliency for granted," said Gabrielli. "They should
ask questions to assess how their children are handling being a military family member. The
First Lady asked thoughtful questions and listened to what the children had to say."
Most recently through Joining Forces, the First Lady has hosted the military community at the
White House including:
• November 2022: The First Lady hosted a traditional Veterans Day breakfast at the White
House to honor those who have served in the U.S. Armed Forces.
• July 2022: The President and the First Lady hosted military families at the White House for a
July 4th celebration.
• June 2022: The President, the Vice President, the First Lady, and the Second Gentleman,
welcomed wounded warriors, their caregivers and families to the White House as part of the
annual Soldier Ride to recognize the service, sacrifice, and recovery journey for wounded, ill,
and injured service members and veterans.
• May 2022: On Memorial Day, the President and the First Lady hosted a White House tree
planting ceremony, dedicating the new Magnolia to America's service members and Gold Star
Families.

About Joining Forces-
First Lady Jill Biden reignited Joining Forces in April 2021, after its inception with former First
Lady Michelle Obama in 2011. Joining Forces is a White House initiative to support military and
veteran families, caregivers, and survivors. Joining Forces' work is driven by their experiences.
Learn more here: https://www.whitehouse.gov/joiningforces/