Minnesota National Guard leaders visit traveling tribute in Austin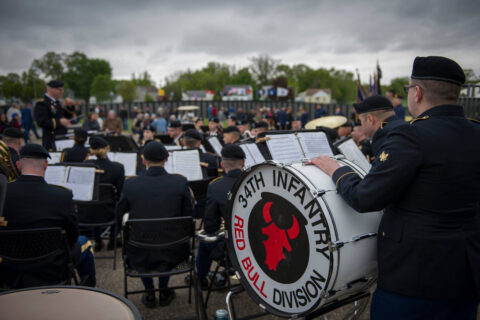 May 22, 2018 (AUSTIN, Minnesota) –– A replica of the Vietnam Veterans Memorial was on display May 16-20, in Austin and leaders of the 347th Regional Support Group took the opportunity to visit during the event's closing ceremony.
The display, dubbed the American Veterans Traveling Tribute, was hosted by Beyond the Yellow Ribbon Austin and featured a near-replica of the memorial in Washington, D.C.
"It was an honor to be part of this humbling and moving tribute to our Vietnam veterans," said Col. Stephen Schemenauer. "The traveling Vietnam Wall is a powerful display, and this event provided an opportunity to meet, and thank, service members from WWII to present-day conflicts. Regardless of their branch of service, or the era or conflict in which they served, we all share a common bond."
The tribute truly took a village, with Beyond the Yellow Ribbon volunteers inspired to host the event after seeing the same tribute in Faribault two years ago.
"We wanted to put this together to let Vietnam veterans know we appreciate their service," said Ann Kasel, Austin's city clerk and volunteer with Beyond the Yellow Ribbon Austin. "It was a lot of community effort pulling together to make it happen."
The closing ceremony provided a chill that outdid a cold spring afternoon, with a host of veteran-support organizations teaming together to honor the fallen with a volley of rifle shots, bell chimes and dozens of flags lowered to half-staff.
Following the ceremony – in which Schemenauer provided remarks and the 34th Red Bull Infantry Division Band performed – a host of Soldiers gravitated toward a local WWII veteran, Duane Klingerman. At 91 years old, Klingerman relayed his travels through Germany – including more than a few cold days during the Battle of the Bulge – and his time spent protecting those at home as a police officer for more than 40 years in Austin.
A host of others took the opportunity to share their stories while serving in National Guard units that have called Austin – which currently is home to the 224th Transportation Company, 347th RSG.
"It is comforting to know that the 224th Transportation Company is supported by such a passionate group of people from Austin's Beyond the Yellow Ribbon Program," Schemenauer said.
Story by Staff Sgt. Patrick Loch
347th Regional Support Group