Minnesota National Guard medics serve Leech Lake Reservation tribal members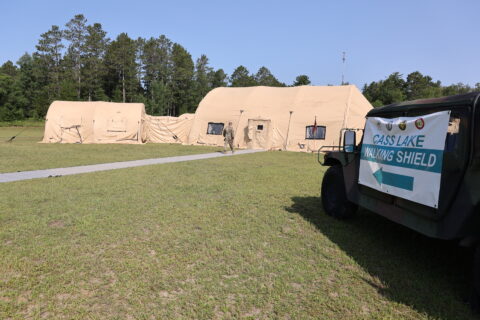 CASS LAKE, Minn. — Recently, Soldiers with the Minnesota National Guard's 204th Medical Company Area Support participated in an Innovative Readiness Training, known as IRT, exercise known as Operation Walking Shield on the Leech Lake Band of Ojibwe Reservation in northern Minnesota, July 21 through 28, 2023.
The Minnesota National Guard-led exercise had 108 personnel participating, including U.S. Army Reserve Soldiers with the 803rd Hospital Center based out of Georgia who were brought in to support the mission. Of the 108 personnel, there were 59 Soldiers with the 204th stationed at Cass Lake, and 14 at Camp Ripley.
Throughout the almost two-week exercise, Soldiers received real-world training while providing medical care to tribal residents in multiple areas including basic medical examinations, behavioral health, dietary consultation, and dentistry.
Army Staff Sgt. Raul Navarro, the IRT project manager and mission noncommissioned officer in charge for Operation Walking Shield, said that the Leech Lake Reservation community began the application process for having the exercise in its community around two years ago, and official project planning began in December of this year.
"It started with the community filling out and submitting the application to IRT," he said. "IRT reviews applications from all over the country and from Guam and prioritizes them based on the needs of the community and the assets that they have. They then assign a unit to it."
Last year, the 204th attended a similar IRT mission in a remote area of Alaska, and after returning home the unit wanted to spearhead the mission at Cass Lake. U.S. Army Reserve Soldiers also participated in the exercise as part of the objective of an IRT, Navarro said.
"The entire purpose of an IRT is also having joint operations," he said. "Inviting a reserve unit to do the mission with us improves our capabilities and helps us to practice in joint operations. The reserves have some functionalities that we do not have here in the state, like a full dental team that is meant for these kinds of missions."
The 204th brought a variety of occupational specialties to the exercise including medics, mechanics, generator mechanics, cooks, behavioral health technicians, and dental technicians, and dentists, Navarro said. Partners who helped to coordinate the mission included the Leech Lake Band of Ojibwe, Cass Lake-Bena school, Indian Health Services, National Guard Bureau, and the U.S. Army Reserve. Coordinating the exercise with numerous partners was a worthy challenge, Navarro said.
"It was a big challenge trying to fill in all the gaps," he said. "But doing stuff like this is going to make people remember this annual training and tell stories about it later."
Army Maj. Jake Redding, the commander of the 204th, said that Soldiers within the unit are excited to carry out the mission and help their fellow Minnesotans by having a direct impact in their communities and showing them what the Guard can do. This real-world training, he said, has an immediate and lasting impact.
"We can take care of simulated patients in a training center all day, every day," he said. "But without having the actual patient there with a problem and the immediate changes that happen, we see the training value in this is exponentially better. One of the training opportunities we have had is to put some of our medics on the [ambulance] and to go around on calls with [their emergency medical services]. They get to observe some paramedic skills and see real life problems."The program, he said, brought in 296 patient visitors, and 1,875 patient procedures were conducted with many of those procedures involving dental. Patients were seen through scheduled visits and walk-in appointments. The total estimated amount of care provided at no cost to the public was $136,948, Redding said.
U.S. Public Health Service Lt. Commander John Naegeli, a pharmacist at Cass Lake Indian Health Services who has helped to plan IRTs in the past, said this mission was the most organized he has ever been a part of, and that strong leadership and disciplined, competent Soldiers have made it a success. Seeing some of the people helped at the reservation has reaffirmed his 'why' for planning the mission, Naegeli said.
"I always wonder 'why do I do this? Should I do it again next year?,'" he said. "It is very stressful to say the least. But every year we find our why. This year, we had a six-year-old show up to our clinic. There's no records of this child ever being seen anywhere that we can find. The mother said this child has not been seen. So now through follow up this child has an appointment with our pediatrician upcoming. That is our why. Our why is to help those who have nowhere to go. So once again, thank you for helping our community."
Terri Flynn-Goggleye, the executive director of the Leech Lake Band of Ojibwe, visited the mission site that was set up at Cass Lake-Bena Middle School, and shared in the sentiments of others from the community.
"This is a great opportunity to come out and experience what you have to offer," she said. "As you know, the clinics here are overwhelmed. So, any extra help that is given to anybody in the area is greatly appreciated."
Like many Minnesotans, many on the Leech Lake Reservation are finding it difficult to be seen by providers in areas such as dental after the COVID-19 pandemic. Dorris Wittner, a Cass Lake resident and member of the Leech Lake Band of Ojibwe, said that dentist chairs in the region appear to be booked out for weeks, months, or longer. Wittner heard about the program through her two grandsons who are enrolled in the Cass Lake-Bena school system and asked their grandmother to bring them to the clinic for a dental check-up.
"I saw the signs at the school," Wittner said. "It was their idea to come."
Operation Walking Shield has had a positive impact on her and her family, Wittner said, and she hopes to see the clinic return.
"I love this program. It would be nice if they had it yearly," she said. "We were here the first time they were here, and it worked out so fantastic. You can bring them all at the same time and it saves time from running back and forth to the clinic. Keep coming back please, we appreciate it."
Minnesota National Guard
By Staff Sgt. Sirrina Martinez