Minnesota National Guard property and fiscal office works behind the scenes to ensure fiscal responsibility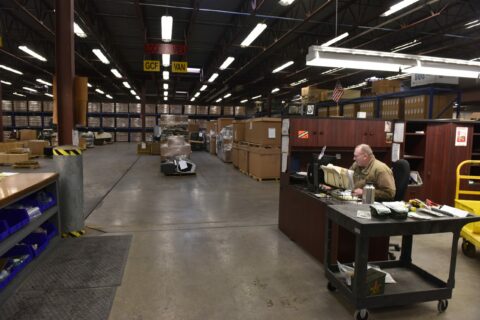 January 23, 2020 (CAMP RIPLEY, Minnesota) — In the Minnesota National Guard, a group of highly-skilled personnel work to manage the government funds and property that ensure Soldiers and Airmen are trained and able to respond to federal and state missions.
"In an era where all the transactions are digital, it's easy for people to see the financial side of the force as invisible," said Lt. Col. Patricia Baker, the United States Property and Fiscal Officer for Minnesota. "It's hard for people to grasp what the dollars and cents mean when it's all invisible. Which also means it's easy to take it for granted."
Auditors, data processors, contractors, comptrollers, budget managers, supply and warehouse managers and property book managers work together in the property and fiscal office to seamlessly ensure the Minnesota National Guard accounts for the millions of dollars it receives each year and the billions of dollars worth of assets in inventories across the state.
"When we think about what it takes to run an organization that has 13,000 people, it's millions and millions of dollars," said Baker. "But there are billions of dollars when it comes to the assets that reside in all of those armories and flightlines and connexes and facilities statewide."
At the lowest level, any Soldier or Airman in the force has the ability to be a better steward of government resources. From the clothing and equipment each service member signs for to military equipment, vehicles, radios and computers, ensuring accountability and maintenance of government property is critical. Just as critical is responsibly managing the government funds that come to the Minnesota National Guard for things like pay, allowances and travel.
"Almost everybody in the force has a card in their wallet or bag that is government-issued," said Baker. "That's an easy starting point: to be a good steward of that government travel card and to be mindful that those are government funds."
Baker says that it can seem that the funding within the Department of Defense is immense, but when it gets parsed down to the 54 states and territories and down to the major commands within those Army and Air National Guards, that pot of money isn't nearly as big as what it is in our heads.
Tasked with managing it all – the millions of dollars in funding and billions of dollars in assets – is a group of employees who work behind the scenes to ensure all regulations, requirements and standards are met.
"We are the wizard behind the curtain," said Baker. "We're enabling others to do so many things and they just never see it. The actions that we take, the transactions that unfold, affect every single Soldier and Airman every day."
Story by Master Sgt. Blair Heusdens, Photos by Anthony Housey