Minnesota National Guard stands up new logistics units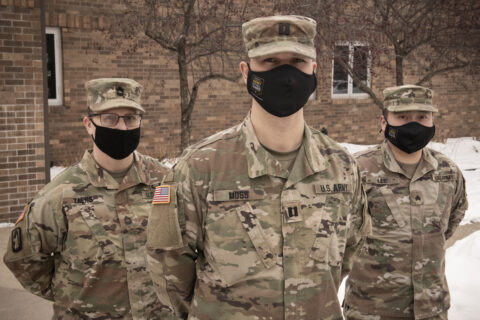 January 30, 2021 (BLOOMINGTON, Minnesota) — The lifeblood of the U.S. Army and its remarkable capacity to successfully accomplish a wide range of global missions remains its swift and coordinated control and execution of logistics functions.
Without bullets, water and fuel, Soldiers can only accomplish so much. And, of course, for sustained operations, food, shelter and variety of other supply and logistical requirements exist.
As part of the Department of Defense's constant effort to prepare for future mission demands, Soldiers of the Minnesota National Guard's 347th Regional Support Group are in the midst of standing up two new units.
The 1347th Combat Sustainment Support Battalion, which will be headquartered in Bloomington, Minnesota, is designed to operate as a multifunctional logistics headquarters — one that can execute logistics operations at home in Minnesota and overseas. The unit is scheduled to be activated in September 2021. In the meantime, the unit is using its "implementation year" to fill its ranks and build up its footprint.
Capt. Andrew Moss, training officer for the new 1347th CSSB, said the unit has already moved into the Bloomington armory, occupying space that was formerly used by the headquarters element of the 1st Armored Brigade Combat Team, 34th Infantry Division.
"All of our full-time support positions have been filled, and we expect to achieve 50 percent manning by the end of the implementation year, going into the activation year," Moss said.
The CSSB, led by commander Lt. Col. Joel Stamp and senior enlisted leader Command Sgt. Maj. Rick Culver, will link some of the key logistics units throughout Minnesota — including transportation companies, the human resources company, and the finance detachment teams — with their higher headquarters, the Brooklyn Park-based 347th RSG, said Capt. Maggie Gregg, 1347th CSSB operations officer.
The mission of the 347th RSG is to provide life support and command and control of military base operations. The unit's responsibilities include leading the reception, staging, onward movement and integration (RSOI) of supporting forces, managing facilities, and providing administrative, medical and logistical support for troop services on a base camp. The brigade's companies provide support for units during homeland security, homeland defense and other civil support missions.
With the 347th RSG's addition of the CSSB, logistics companies across the state now have a unique, logistics-focused battalion to plan, synchronize and support their individual sustainment missions, Gregg said.
"The role of a CSSB is to exercise mission command for task organized companies, teams, and detachments executing logistics operations," Gregg said. "The CSSB offers another echelon of mission command to support these companies, allowing the 347th RSG to look forward and project for future missions."
One of the CSSB's new full-time Soldiers, Sgt. Je Lee of Andover, Minnesota, was brought on in October of 2020 to coordinate schooling for incoming unit Soldiers. He said other Soldiers should consider joining the new unit, which will oversee a variety of companies and detachments that fall under the 347th RSG.
"We have a lot of different opportunities within the CSSB," Lee said. "A lot of Soldiers get stuck doing the same military job for years and want a different career path, but they don't really know what opportunities are out there."
The unit has positions available in a variety of military occupational specialties, from medic opportunities within a subordinate medical company to truck driver and maintenance technician openings in the battalion's transportation companies, Lee said.
In September 2020, the 347th RSG officially stood up the 324th Transportation Company, operating out of both Olivia and Redwood Falls, Minnesota. The Minnesota National Guard's newest transportation unit consists of truck squads and operations and maintenance sections, which employ Soldiers adept at providing and supporting the ground transportation of containerized materials, non-containerized materials, personnel and equipment.
Those who are interested in developing and being a part of a collaborative team are encouraged to apply Gregg said.
Moss said both the CSSB and the transportation company are well underway in recruiting top talent. Both units will continue to fill a variety of critical positions over the coming months.
Each new unit means new opportunities for Minnesota Soldiers and additional social and economic impact throughout Minnesota communities. However, local Soldiers are also making an impression globally.
Lt. Col. David Johansson, lead operations officer for the 347th Regional Support Group, said both of the new Minnesota units — the 1347th CSSB and 324th TC — are able to deploy as stand-alone formations, making them very versatile for combatant commanders in charge of operations around the world.
The Minnesota National Guard, which maintains a strong focus on modernization, continues to do its part to structure, develop and maintain ready forces to meet the demands of current and future Department of Defense missions and campaign objectives.
Story and photos by 1st Lt. Eric Jungels, Minnesota National Guard public affairs