Minnesota National Guard supports Red River flooding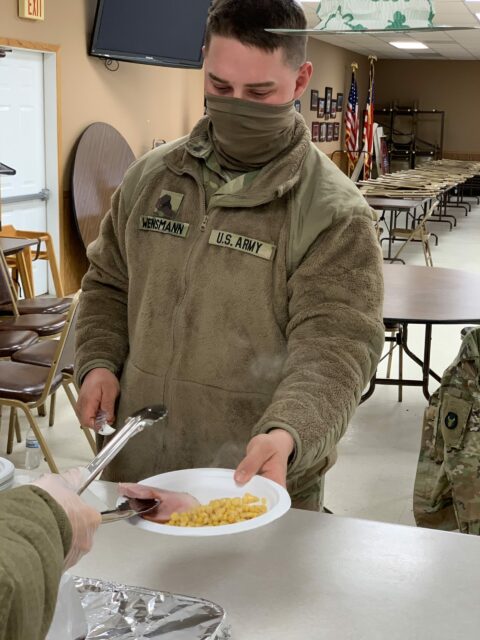 April 13, 2020 (OSLO, Minnesota) — About 20 Soldiers with the 2nd Combined Arms Battalion, 136th Infantry "Bearcats" based out of Moorhead, Minnesota, supported the city of Oslo, Minnesota, over Easter for the second year in a row.
The Red River's water levels have flooded roadways into the city. Minnesota Governor Tim Walz issued an executive order on April 7, 2020, to activate the Minnesota National Guard to assist Marshall County. The Bearcats mobilized and arrived in Oslo on April 8.
The Soldiers assist with monitoring levees and flood protections systems. They also support any potential rescue and evacuation operations. The National Guard is able to provide transportation in and out of Oslo using military vehicles for personnel, supplies and mail.
"Like last year, we are happy to support Oslo and Marshall County during this flood season," said 2nd Lt. Mitchel Crothers, the officer in charge of the flood response in Oslo and an armor officer with C Co., 2-136 CAB. "It's been great to work with the mayor of Oslo, Erika Martens, the county sheriff, and other community members."
During the global pandemic, Soldiers continue to practice protective health measures during the flood response. This year, Soldiers practice social distancing as recommended by the CDC, and wear face masks, along with gloves, when they must be in closer proximity to each other to complete duties.
The local Oslo community welcomed the Bearcats again this year. To accommodate social distancing guidelines, the Oslo Fire Station was made available for lodging and the community center for a headquarters. Soldiers were well-fed daily with meals provided by the local Kitty's Café. The café also served this year's Easter dinner of potatoes, ham, and vegetables.