Minnesota National Guard supports state vaccination efforts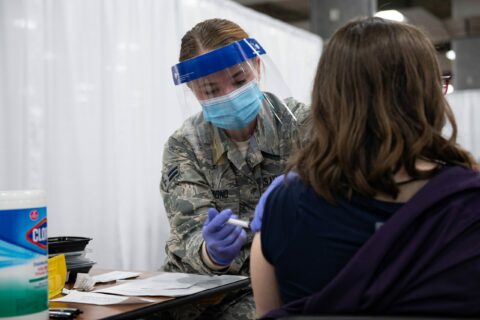 February 3, 2021 (ST. PAUL, Minnesota) — The Minnesota National Guard supported the State of Minnesota and the Minnesota Department of Health by providing assistance at 10 community vaccination sites across the state of Minnesota during the last two weeks of January.
More than 100 Soldiers and Airmen participated in the vaccination process by providing administrative and logistical support and a number of qualified medical professionals administered vaccines at some locations.
"In the state of Minnesota, being a citizen-soldier is quite an amazing thing," said Master Sgt. Jacob Young, a COVID-19 vaccine administration manager from the 133rd Airlift Wing. "So when we get notice to come on to these kinds of missions, this puts into fruition what we do, and we're very glad to be here."
The Minnesota National Guard has been identified as a supporting component in the state's vaccination plan to augment staffing and logistics efforts in support of the Minnesota Department of Health.
At the Roy Wilkins Auditorium in St. Paul, Minnesota Guardsmen participated in an effort to administer about 15,000 vaccines to Minnesota educators as they prepare to return to their classrooms to start in-person teaching again.
"There's unknowns with not getting vaccinated," said Young. "By getting the vaccine, that takes away that unknown."
The Minnesota National Guard continues to support COVID-19 community testing sites across the state and remains ready, if needed, to augment staffing in long-term care facilities and at future vaccination sites.
The State of Minnesota continues to work with partners across the state to expand opportunities for Minnesotans to receive the COVID-19 vaccine and to ensure that COVID-19 testing is available to anyone who needs it. For more information on the COVID-19 vaccine, visit https://mn.gov/covid19/vaccine/index.jsp and to find a location to get tested for COVID-19, visit https://mn.gov/covid19/get-tested/index.jsp.
Story by Sgt. Sebastian Nemec, Minnesota National Guard public affairs