Minnesota National Guard Welcomes New Adjutant General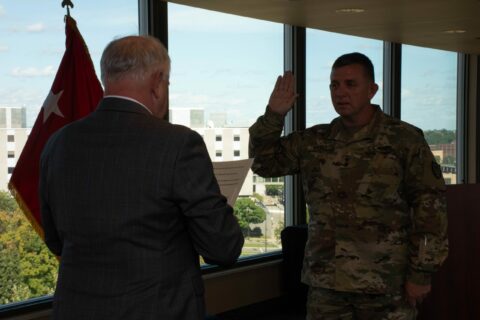 August 31, 2020 (ST. PAUL, Minnesota) – The Minnesota National Guard held an installation ceremony Monday, officially welcoming Maj. Gen. Shawn Manke as the organization's 32nd adjutant general.
"It's a time for us to reflect as an organization on the past and a time to look toward the future," said Minnesota Governor Tim Walz. "There are few institutions that have the credibility and the trust of the American people as the National Guard; and that comes from the quality of the people who are there and it comes from the leadership."
The Minnesota National Guard is an organization of more than 13,000 Soldiers and Airmen from communities across Minnesota who support both state and federal missions. When directed by the President, the Minnesota National Guard deploys trained Airmen, Soldiers and equipment to support overseas missions. The resources of the Minnesota National Guard are also available to the Governor to support domestic response missions within the state.
Manke takes on this position during a time when the Minnesota National Guard has been busier than usual with several state activations in addition to planned training and deployments.
"It is almost unimaginable this summer," said Walz. "Troops were helping us test for COVID-19, they were doing their annual training, some of them were going to the National Training Center, some were preparing to serve in missions overseas – and in the midst of all of that, we ask our National Guard to help restore order in our great state. That is an incredible ask. And each and every time this organization rose to the occasion."
Manke assumed the responsibilities of adjutant general from Lieutenant General Jon Jensen who recently moved to a new position as Director of the Army National Guard. Jensen served as adjutant general since November of 2017.
Jensen attributed the success of the organization to the continued support at all levels of government and from individual citizens for the Soldiers and Airmen of the Minnesota National Guard.
"We serve in your communities," said Jensen. "And I'm deeply appreciative of the trust that you give us and the support that you give us every single day."
During the ceremony, Governor Walz promoted Manke to the rank of major general. The adjutant general serves for a term of seven years and is a state employee appointed by the Governor of Minnesota.
"Our state and nation are going through some challenging times," said Manke. "But I hope you can sleep a little easier at night knowing how seriously I take this assignment. I am engaged and committed to the Minnesota National Guard and the success of Minnesota as a member of your team."