Minnesota Power serves military-connected employees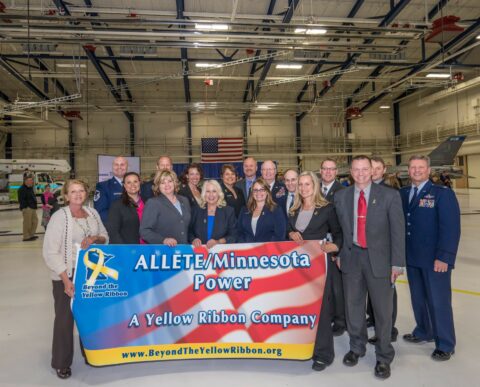 August 26, 2019 (DULUTH, Minn.) — Military deployments can be stressful. 1.8 million service members have deployed since the onset of operations in Iraq and Afghanistan. In a 2006 RAND Group study, 47% of service members and their spouses indicated military deployments impacted education or employment. Of those, only 25% of the group referred to a positive impact on employment.
Bryan Maslowski is a Project Delivery Manager at Minnesota Power, a subsidiary of ALLETE. Minnesota Power is a utility company that provides energy services to a 26,000-square-mile service area in the Upper Midwest, located in Duluth, Minn.
Master Sgt. Bryan Maslowski is also a water and fuel systems maintenance shop supervisor with the 148th Civil Engineering Squadron, part of the Duluth-based 148th Fighter Wing. Maslowski feels fortunate to be among the 25% of service members to have a positive experience with his employer. Maslowski deployed to Southwest Asia for the first half of 2018. While deployed, he led a 50-man team of Airmen who did new construction in Kuwait, Iraq, Jordan, and Syria.
Master Sgt. Bryan Maslowski, from the 148th Fighter Wing, is greeted by his wife and son upon returning from an overseas deployment in 2018.

Master Sgt. Bryan Maslowski, of the 148th Fighter Wing, and his son are all smiles while talking with Maslowski's grandfather, WWII Veteran, James Burman in 2018.
While deployed, Maslowski enjoyed pay differential, regular contact with his employer and received multiple care packages. Additionally, his wife received support in the form of consistent communication, volunteers made freezer meals, and a volunteer work crew who helped with chores and firewood processing. Upon returning home, Maslowski received support as he transitioned into his civilian job responsibilities.
ALLETE and its subsidiaries, to include Minnesota Power, was designated a Yellow Ribbon company in 2016. Overseen by the Minnesota Department of Military Affairs, the Beyond the Yellow Ribbon program supports service members, veterans and their families by connecting them with career counseling, professional development and employment resources. To earn a Yellow Ribbon designation, companies must build relationships with local military leaders, identify which employees have military connections and commit to hiring, supporting and retaining veterans.
ALLETE Vice President and Chief Administrative Officer, Nicole Johnson said the company "has supported veterans, military members and their families behind the scenes for decades. An organic employee effort grew out of that spirit of commitment to veterans." Currently employees self-disclose their military service through a voluntary survey. At this time, ALLETE boasts nine actively serving employees, 69 veterans, and 66 military family members. ALLETE's Yellow Ribbon program "established an action plan, plans events and initiatives, and provides support while maintaining the Company's goal to contribute its unique culture by proactively recruiting and retaining the best and supporting an environment in which military-connected employees can thrive." said Johnson. Additionally, the Company has a volunteer pool with 65 employees who have supported military-connected employees.
ALLETE is working to build on its already positive culture of support for the military by continuing to advance their key focus areas of developing a reintegration plan and spread the word about being a Yellow Ribbon Company to other employers in the area. Maslowski, who received support from the Company, is paying it forward as steering committee member of the companies Yellow Ribbon program. "I am especially proud of our efforts to provide personal support for employees who deploy or who have family members who are deployed." said Maslowski.
Information on becoming a Yellow Ribbon company in Minnesota can be found at https://mnbtyr.ng.mil
Story and Photos by Audra Flanagan, 148th Fighter Wing