Minnesota Red Bulls Take Charge of Middle Eastern Mission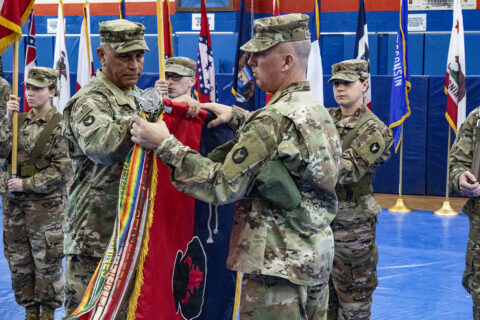 Nov. 12, 2018 (CAMP ARIFJAN, Kuwait) – The Minnesota National Guard's 34th Red Bull Infantry Division assumed responsibility for mission command and control of Task Force Spartan from Pennsylvania's 28th Infantry Division during a transfer of authority ceremony held Nov. 12, 2018. Kicking off their nine-month deployment, the Red Bulls now lead the nearly 10,000 Soldiers from subordinate brigades that are conducting theater security operations across the Middle East.
"On behalf of the entire Red Bull Division, I can tell you, we are fully trained. We are prepared to seamlessly step in and execute the mission requirements," said Maj. Gen. Benjamin J. Corell, the 34th's commanding general, and an Ankey, Iowa native. "These Red Bulls that I represent are honored to be assuming command of Task Force Spartan and take the lead of Operation Spartan Shield."
Several hundred soldiers from both units observed as division leaders cased the 28th's colors, while the colors of the 34th's were unfurled.
Now in its seventh year, Operation Spartan Shield is designed to maintain a U.S. military posture sufficient to strengthen U.S. defense relationships, build partner capacity and execute U.S. Central Command's contingency plans, if necessary. Task Force Spartan represents the army component of the operation.
Lt. Gen. Michael Garrett, U.S. Army Central commander, said the division headquarters at the helm of Task Force Spartan plays an important role in the security of a dynamic region. The complex environment makes partnership and cooperation with regional militaries and members of the Gulf Cooperation Council ever more important.
"You assume this mission at an extremely interesting time. The U.S. Central Command area of responsibility is by most steps as strategically important as it is vulnerable," said Garrett. "I have every confidence that the Red Bull Division is ready for the challenge coming its way. You will be providing mission command for some seasoned and capable formations."
Garrett welcomed the 34th as the fourth consecutive National Guard division headquarters to assume the Task Force Spartan mission.
Task Force Spartan is a unique, multi-component organization made up of active Army and National Guard units and rounded out by U.S. Army Reserve support units. Garrett said Task Force Spartan epitomizes a total Army effort and "serves as proof positive that without the reserve components in our force structure, we would long ago have failed as an Army."
Garrett thanked the Guard and Reserve soldiers for their selfless service and the personal time dedicated to being mission-ready. He asked the citizen-soldiers to pass along his thanks to families and employers.
Story by Sgt. William Boecker, 34th Red Bull Infantry Division