Minnesota Soldiers reenlist on Norwegian mountain peak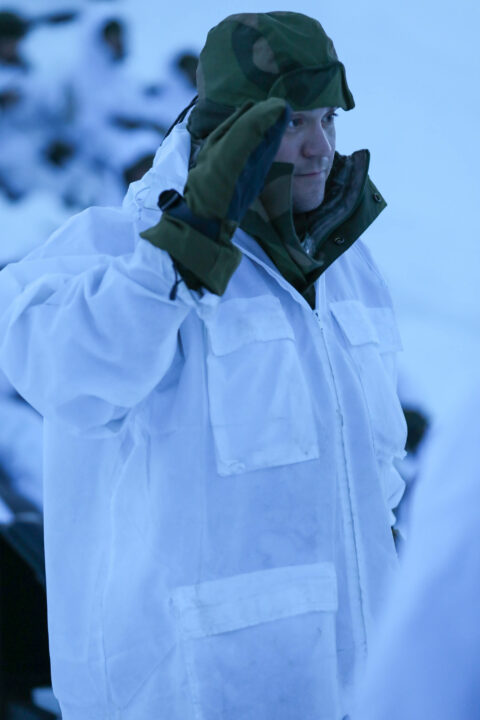 Seven Soldiers with the Minnesota National Guard took the opportunity to reenlist, extending their service, on top of Hofjellet Mountain in the Trøndelag region of Norway, on March 30, 2022. Spc. Jonathan Erickson, Sgt. Tara Anderson, Sgt. Justin Rose, Sgt. Nicholas Buban, Sgt. Craig Wilking, Staff Sgt. Kyle Bruflodt and Sgt. 1st Class Nicolas Romie chose to reenlist during a five-day field training exercise that was part of the two-week U.S. – Norwegian Reciprocal Troop Exchange, known as NOREX.
About 100 Soldiers and Airmen of the Minnesota National Guard participated in the two-week-long exercise that partners them with Soldiers from the Norwegian Home Guard, known as the Heimevernet, to learn winter survival skills and experience local culture.
"How many people get to reenlist on a mountainside in Norway? I had a lot of Soldiers come up and thank me for the opportunity to do this," said Capt. Michael Popp, company commander of this year's group of Minnesota service members. "It was an experience they can take with them for the rest of their lives and the rest of their careers in the Army."
"Having the opportunity to extend my enlistment on a mountainside in Norway was an experience of a lifetime," said Sgt. 1st Class Nicolas Romie. "It's these types of experiences that are a big reason why I'm committed to finishing my career as a full-time Soldier in the Minnesota Army National Guard."
All seven Soldiers committed to serving the Minnesota Guard longer, but they all had different reasons.
"I wasn't ready to be done with the Army. I really like it," said Sgt. Nicholas Buban, who has served for almost six years and just reenlisted for four more. "It brought me to Norway; it brought me to Africa. It's brought me to many cool places. Reenlisting in Norway was unique because it's one of the cooler places we get to go for the Army."
These Soldiers have already dedicated many years to the Minnesota National Guard and want to continue for one to six more years. For most, they see the military as their second family and second career. These Soldiers want to continue to serve their country, the state of Minnesota, and their local communities.
"Getting opportunities, like NOREX, to get to see and travel the world is one of the big reasons why I reenlisted," said Sgt. Craig Wilking, who reenlisted for six more years. "It was a great opportunity to reenlist here. Norway is our NATO ally, and you never really get this kind of opportunity to reenlist in one of our allied countries, not on a deployment. It was a great time and opportunity that I didn't wanna miss."
The exchange began in 1974 to promote goodwill between the partners and build military readiness.
By Capt. Jodine Eells
Minnesota National Guard Public Affairs