Minnesota Twins, National Guard celebrate 20 years of partnership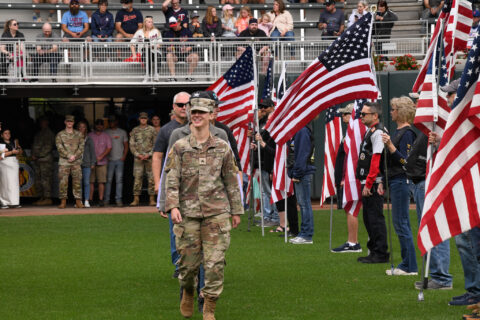 Baseball is a staple of American culture, and here in Minnesota our major league baseball team, the Minnesota Twins, have shared the field with members of the U.S. Armed Forces during their Armed Forces Appreciation Day game for the past 20 years.
"We are proud to be Minnesota's baseball team," said Julie Vavruska, director of community engagement and events for the Minnesota Twins Baseball Club. "We know that each time we open Target Field's gates, every time we take the field, each time we bring fans together in the shared joy of our game, each and every day we represent our region by playing our national pastime is a special opportunity – one made possible by the continued efforts and selfless sacrifices of our military."

The Minnesota National Guard and the Minnesota Twins have fostered a partnership through their Armed Forces Appreciation Day, known as AFAD, game since 2003. Army Lt. Col. Kristen Augé, the state public affairs officer for the Minnesota National Guard, has taken part in six of these games and says each game is a day of recognition and gratitude.
"The Minnesota Twins' Armed Forces Appreciation Day provides a tremendous opportunity to showcase those citizens who have served or are serving our state and nation, and their families, and an opportunity for members of the community to express their gratitude to them," said Augé. "It also provides a way to thank the people and organizations that have supported us such as Beyond the Yellow Ribbon companies and networks."
This most recent AFAD game, held on Sept. 10, 2023, focused on honoring Vietnam and Vietnam Era Veterans as it was the 50th anniversary of the last U.S. troops returning home from the Vietnam War. There was a special pre-game pinning ceremony where nearly 30 Vietnam and Vietnam Era Veterans received a commemorative pin in honor of their service and to provide them the recognition they did not receive 50 years ago. Augé had the special honor of being able to pin her uncle during that ceremony.
"This past year was the most memorable to me for two reasons: honoring the Minnesota Twins' 20th Armed Forces Appreciation Day anniversary and all they have done for women and men who have served our state and nation, and honoring the Vietnam and Vietnam Era Veterans," said Augé. "After the Twins game, I had many Veterans and their family members express their appreciation for being recognized."
For Vavruska, her favorite memory from AFAD came in 2018 when they hosted a surprise reunion between a son and his mother who had been deployed for more than six months.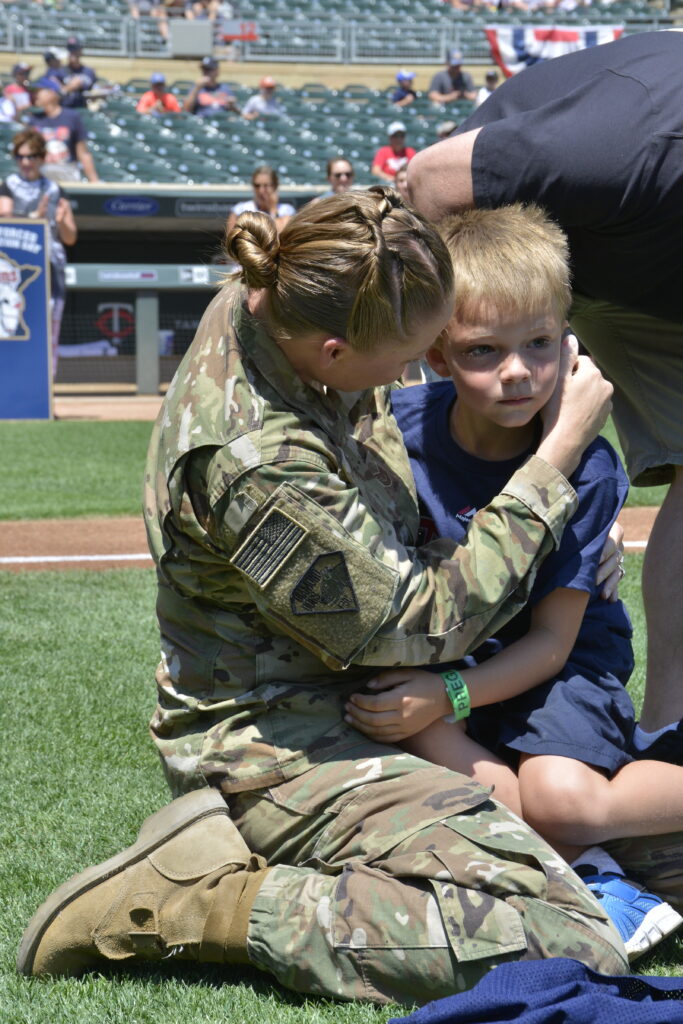 "We set it up so that the little boy – who had no idea his mom had returned – got to be a participant in the pregame "run the bases" event; once he started running, we brought the mom out to home plate," Vavruska recalls. "As the boy rounded third base and saw that it was his mom standing at home plate, he broke into a sprint, jumped into her arms and the two just held onto each other so tightly. It was one moment, but it showed so powerfully why we do what we do – to celebrate and recognize those who so selflessly and bravely give of themselves."

As we look to the next 20 years of partnership, the hope is to continue building a community of honor and gratitude for the service members, families, and community that is 'Twins Territory.'

"AFAD is a labor of love for all sides, one we are all proud to take on," said Vavruska. "I want us to continue telling stories that need to be told, to craft meaningful themes, to give a day to those who deserve it most, and to educate and inspire younger generations. Most of all, I want the Twins and the Minnesota National Guard to do what we do best – create and deliver magic moments."

Story by Staff Sgt. Sydney Mariette
Minnesota National Guard Public Affairs