MNNG Military Police deploy to support Joint Task Force Guantanamo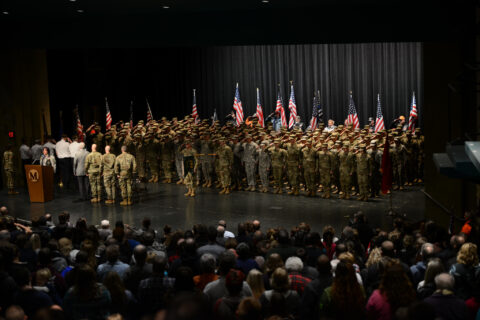 By Staff Sgt. Patrick Loch
Minnesota National Guard Public Affairs
MONTICELLO, Minn. (Jan. 30, 2017) – More than 120 Soldiers from the Minnesota National Guard's 257th Military Police Company were bade farewell during a ceremony that filled the Monticello High School auditorium Jan. 28, 2017. The company, following pre-mobilization training at Fort Bliss, Texas, will deploy to U.S. Naval Station Guantanamo Bay in support of Joint Task Force Guantanamo.
"It's quite an honor," said Spc. Alex Suess, a military police officer with the 257th MP Co., 84th Troop Command. "Especially being part of Minnesota's first rotation to Cuba – we're part of history."
The Soldiers mission will be to provide safe, legal, humane and transparent care and custody of the detainees housed at the Joint Task Force Guantanamo detention facilities.
"We're ready," said Spc. Jonathan Soppeland, a military police officer with the company. "Especially after all of the training we've been doing the past year, and the specific training we will get at Fort Bliss."
Every unit preparing for a rotation at the joint task force is required to receive certifications on the strictly-enforced operating procedures enforced there — training the 257th MP Co. will receive at Fort Bliss. Additionally, the unit will undergo thorough on-the-job training prior to assuming responsibility for their mission.
In attendance at the ceremony were Congressman Tom Emmer, State Sen. Bruce Anderson, Rep. Marion O'Neill and an incredible outpouring of support from friends, family and community members -filling the auditorium to capacity — in support of the deploying unit.
Additionally, the Minnesota Patriot Guard came out in full force to display flags and deliver messages of support and honor to the deploying Soldiers and their families. Members of the Patriot Guard also presented a personalized flag to Capt. Jon Schliesing, commander of the 257th MP Co.
"Our unit is trained and ready to professionally carry out this very important mission," said Schliesing.
"I'm excited to put all of my training to the test and do our specific job," said Spc. Taylor Jacobson. "At home I work in corrections, so they go hand-in-hand."