Month of the Military Family: Guard families reflect on military life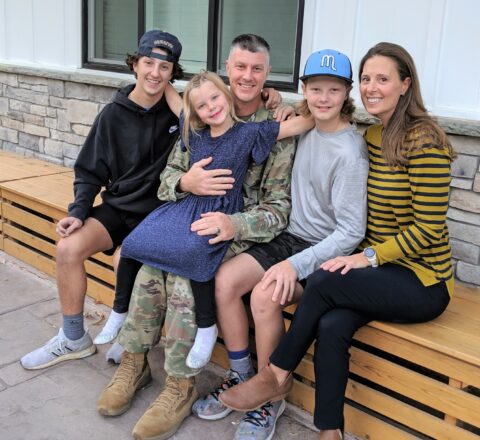 Two Minnesota National Guard families shared their thoughts on life as a military family during Month of the Military Family.
The Vogel Family
Army Sgt. Maj. Joe Vogel serves with the 34th Red Bull Infantry Division personnel section and has 25 years of military service. His wife, Molly, is a Soldier & Family Readiness specialist. She will soon start her new position with the Primary Prevention Team supporting the 1st Armor Brigade Combat Team, 34th Red Bull Infantry Division, in Rosemount. They have three children, William, 16; Graydon, 13; and Ava, 6. Joe provided his responses for this article.
What does Month of the Military Family mean to you?
"It reminds us to be grateful for our nation and to stop and count our blessings. Sharing November with Veterans Day and Thanksgiving allows for intentional reminders to be proud and pay respect for those that have paved the way. We've learned a lot from those who've served before us. Those sacrifices are not in vain or forgotten. This month should also be an
awareness of support and resources available to all past and current service members in all branches."
What is the most challenging part of being a military family?
"Being an active-duty service member puts a strain on my wife and children to pick up the pieces while I'm away. Temporary duty pulls me away from my family several times throughout the year. These events change the dynamic of our home. There is the time apart as well as stress leading up to leaving and the reintegration when returning. We asked our kids this same question and they said, 'It's tough explaining to friends sometimes.'"
What is the best part of being a military family?
"Pride of being part of something bigger than our family while supporting local, state, and national missions."
What message would you like to give other military families?
"Get connected, attend, and/or volunteer for the next event. Ask for help when needed. It's okay to not be okay physically, mentally, or emotionally. Reach out for support. Pay it forward when you're able. Support each other, especially on the Guard side where we don't have military housing. It is essential to build community and take care of each other to remain strong and resilient. We are all human. We all stumble. We learned at basic training not to leave your battle buddy behind. Because we are such a small part of the population, we must look out for one another. Leaning on extended family, neighbors, friends, and battle buddies is essential to successfully complete the mission of life."
What would you like the public to know about military families?
"Military families are ordinary people who do extraordinary things! Our children said, 'We make sacrifices that not many understand.' Military families deal with stressors that impact moods or decisions they make daily. I joined the military when I was 19. My wife and children didn't make the choice but have embraced this way of life alongside me. It is a long, difficult road to travel as a military family. Deployments, drill weekends, and annual trainings take you away from your family for the weekend or a full year. However, military life has also been very good to us and allowed us to live comfortably. If you're considering enlisting or debating about staying in the force, please know there are many perks and much pride being a military family."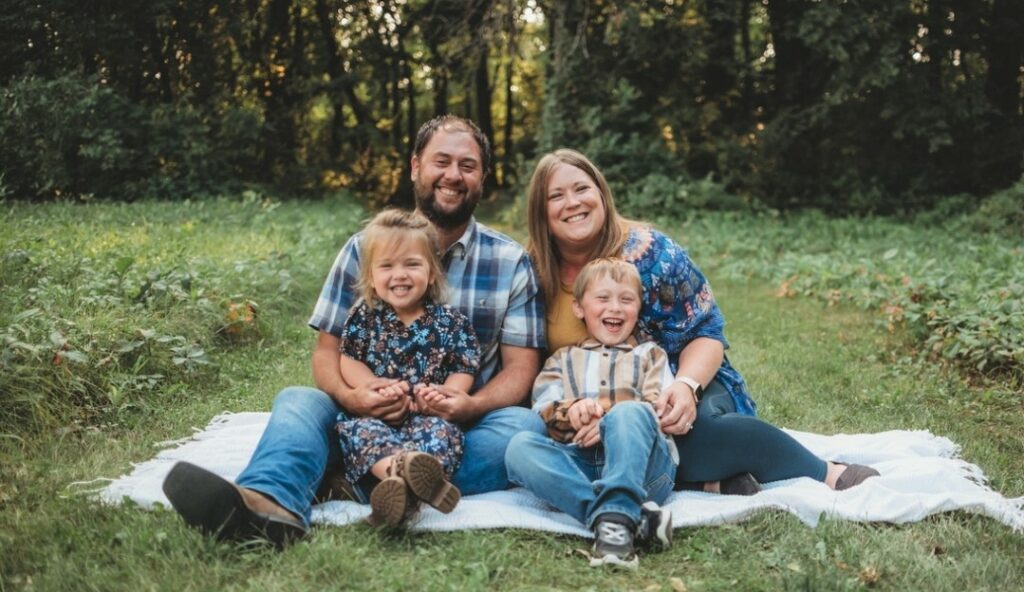 The Riemenschneider Family
During the week, Amanda Riemenschneider serves as the Airman & Family Readiness assistant at the 133rd Airlift Wing. She assists Molly Holm, A&FR program manager, with planning events, workshops, meetings, data entry, and more. When service members are in or out processing, she meets with them and ensures they have the support and resources they need. During drill weekends, Air Force Staff Sgt. Amanda is the noncommissioned officer in charge of Student Flight. She, along with the officer in charge, lead, mentor, and prepare the newest airmen before they depart for basic training and tech school. Amanda and her husband, Joseph, have two children, Oliver, 6, and Natalie, 3. Amanda provided her responses.
What does Month of the Military Family mean to you?
"With it being in November along with Veterans Day, I feel that is fitting. Normally, it's a lot of thanking going to the service member, but it's nice to have the families recognized as well since they handle everything while we are gone. Everything from the house to kids and pets, to drop off and pick up, to sick kids, to band concerts, everything is on them while we are away, and some people don't think about that side of it. All of this while worrying if we are going to be okay on deployment."
What is the most challenging part of being a military family?
"The unknown. Especially with recent events, you really don't know if you'll need to leave on a moment's notice. It's what we train for, but it's still hard to do. The being apart, whether for drill weekends or trainings or deployments, is hard on the kids. When I'm gone, they ask, 'Where is Mom? When will Mom be home?'"
What is the best part of being a military family?
"It brings us closer together. We do all sorts of activities on base, so that's a lot of fun that other people wouldn't get to do since they aren't a part of this military life. It gives us an opportunity to spend time together when life is really busy. With so many other stressors in life, the health insurance is also a great help. It's nice to not have to worry whether or not you're covered when you go to the doctor."
What message would you like to give other military families?
"Have patience, forgiveness, and grace towards each other. It's not always easy when the service member comes home and says they have to go to XYZ for however long. You had plans or birthday parties during that timeframe, so it's hard to plan around those or plan without the
member being at those events. Remember, it's hard on both of you, for the one who's away and the one who's at home."
What would you like the public know about military families?
"We are the same as you. The house can be messy, we are always busy, and sometimes we get more takeout than we should."
-30-
Cristina Oxtra
Minnesota National Guard Public Affairs