National Guard Employers Key to Unit Success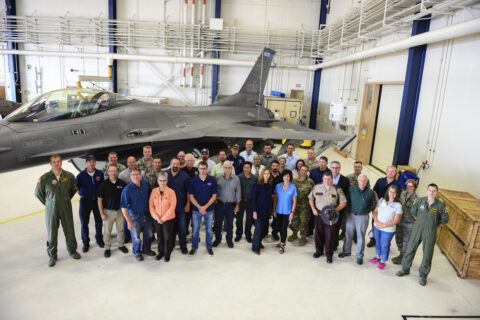 Jan. 14, 2019 (DULUTH, Minnesota) — The 148th Fighter Wing of Duluth, Minnesota, partnered with the 185th Air Refueling Wing of Sioux City, Iowa, and Employer Support of the Guard and Reserve for their 'Boss Lift' event held in appreciation and recognition of employers of the unit's members.
The Boss Lift is intended to foster greater understanding of what National Guard and Reserve members do while at weekend training or deployed away from their civilian jobs.
"We really appreciate all of the employers that support our Guardsmen," said Col. Troy Havener, 148th Fighter Wing vice commander. "Especially in a year where we have served our country with so many of our Guardsmen being deployed and away from their work place."
Eighteen employers representing 15 businesses participated in the event in September 2018.
The employers had the opportunity to learn about the 148th from wing leadership. They were given tours of the operations and maintenance buildings, flightline and fire hall while being able to ask questions to learn more about what their Airmen do while on military duty.
In addition to the employers, 24 spouses of service members boarded a KC135 "Stratotanker" to view in-air refueling of the unit's F-16s to gain better understanding of the wing's mission.
"The 148th has been flying fighters for over the past 70 years," said Col. Christopher Blomquist, 148th Fighter Wing commander. "We are more engaged today than we have ever been. We're busier than we were during Vietnam, Korea or the World Wars. We have more people deployed to more places, more often than ever. Thank you for your support. We truly couldn't do what we do without you."
The event provided Guard members in the unit an opportunity to invite representatives they feel have supported them throughout their military career for a chance to understand what they do.
Tom Peterson, a terminal supervisor at Enbridge of Superior, Wisconsin, was nominated by 148th member Matt Hayes. Peterson recalled not being sure how employing a veteran would affect his workgroup, because some people don't understand how the military operates – they just see that an employee is gone.
Peterson believes he can go back to Enbridge and share this experience to give more perspective. He said the highlights of the experience included networking and meeting all the different employers, observing the professionalism and respect at all levels and seeing all who support our troops in the area. It gave him an even greater respect for his employees after seeing the responsibilities taken on at the base than even before.
"I have a whole new appreciation of being an employer of a National Guard member because I now see the dedication and expertise they have and what they can help us with," said Peterson. "I would absolutely hire more veterans. I see it as they're trained professionals who understand how leadership and procedures work."
Story and photos by Staff Sgt. Dani Tharaldson