National Guard leaders partake in multi-state Arctic event at Camp Ripley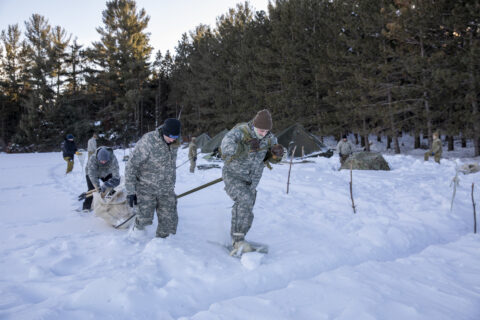 CAMP RIPLEY, Minn. — In the Arctic, steel becomes brittle at -22 degrees Fahrenheit, continuous connectivity at the bandwidth needed for modern military operations is lagging, and more than 80 percent of Alaska communities are not connected to the road system. These challenges were among the many topics discussed at the National Guard Arctic Interest Council's quarterly meeting at Camp Ripley, Jan. 24-26, 2023.
The Minnesota National Guard hosted the event bringing together subject matter experts from the Coast Guard, Navy, Air and Army National Guard, Ted Stevens Center for Arctic Security Studies, academic professors and industry partners to discuss the advancement of Arctic and cold weather capabilities.
Army National Guard Brig. Gen. Wayne Don, director of the Alaska National Guard's Joint Staff, said that rather than just survival, the forum focused on the service members' need to be equipped to operate and successfully complete their mission in the Arctic.
"With all the changes that are going on around the world, to include climate change and the increasing activity in the Northwest Passage area, it has become very important for all of us to recognize that we have to have the right capabilities and gear to operate," said Don, referencing one of the world's most rapidly changing environments.
"The people that are going to advocate for that most ardently are going to be the people that live there and as members of the Arctic community, I think we are in the right position to advocate for those changes and upgrades within our capabilities," said Don, an Alaska Native who grew up in Mekoryuk, a village on Nunivak Island, 500 miles west of Anchorage in the Bering Sea.
Don said that all of the council members' experiences are different, and coming together is essential in providing input into broader strategies.
During the event, attendees had the opportunity to observe and visit with Airmen from the Minnesota Air National Guard's 133rd Contingency Response Flight completing their cold-weather focused, annual training where the Guardsmen sheltered in tents, igloos and snow caves to simulate an Arctic mobilization.
"Two steps in the Arctic is one anywhere else," said Senior Master Sgt. Jeremiah Wickenhauser, 133rd CRF superintendent, during his presentation to the council members on his unit's capabilities and their current training on how to stay warm in freezing temperatures while performing different aspects of their jobs.
Wickenhauser referenced the 133rd's ability to be the premier Arctic contingency response unit in the National Guard and that successes like these takes "innovation, experimentation and training."
Wickenhauser said the forum was a helpful way for other states to learn about training opportunities and join exercises like the 133rd CRF hosted Arctic Butterfly – an exercise that trains arctic survival skills and supports flight-line operations in a cold-weather scenario.
From diving and explosive ordnance disposal in the Arctic to cold adaptation and winter equipment maintenance, council members learned from multiple SMEs who shared experiences from their career field.
Since its inception in 2017, the National Guard Arctic Interest Council has advocated for the advancement of arctic and cold weather capabilities as part of the U.S. defense strategy. Approximately 50 representatives from nine states participated in the event.
Don said that collaborating with neighbors and the opportunity to talk offline about challenges impacting the different National Guard states brought key issues into focus.
"It's a good thing for us to get together and talk about some of the challenges, successes and strategies for moving forward," said Don.
Story by Balinda ONeal
Alaska National Guard Public Affairs